Podcast: Play in new window | Download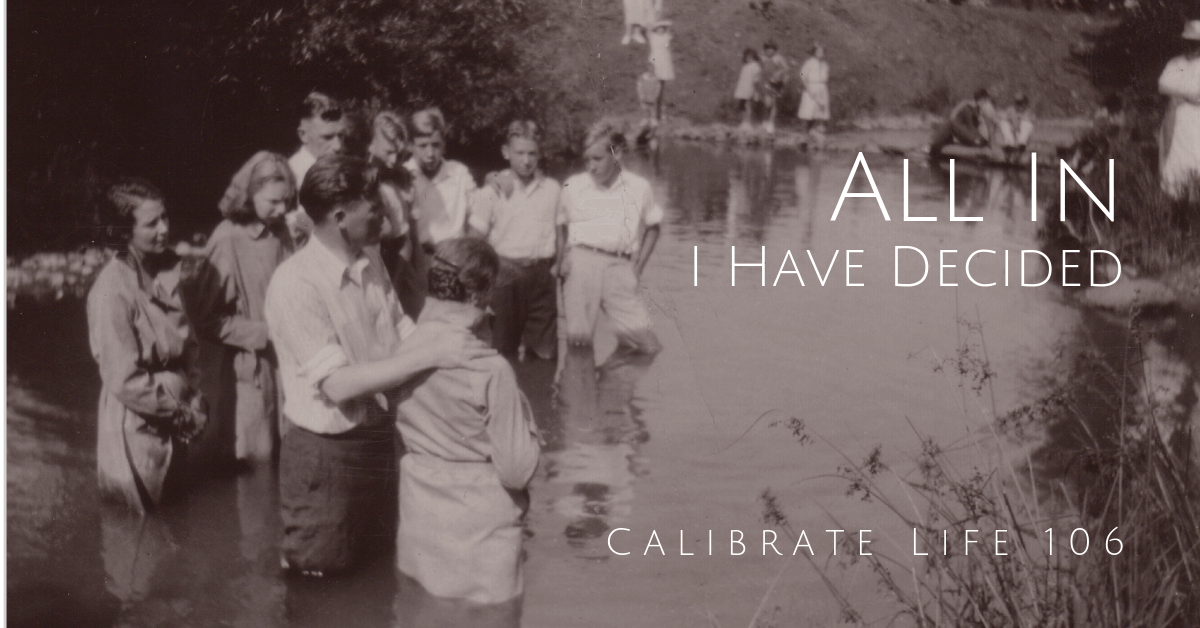 Until we have decided what we really do believe and live life "as if" we believe it, we will not make great progress toward our great adventure or the life we really want to live. Sooner or later we have to decide what we believe to be the truth and anchor in it. In this article and episode of Calibrate Life, we discuss being "all in" with the ways we choose to invest our lives.
continue reading for the article / episode notes…
I Have Decided… All In
I am an obstacle spotter. I hate to admit it, but it is true. My gift is discerning and recognizing the things that could go wrong first, and then moving on to consider the thing that could go right. Obstacle spotters are valuable on any team, but that gift must be suppressed during the dreaming and visioning stages. A vision has to get some legs before we call in the obstacle spotters. 
How do I function in a body where both an obstacle spotter and a visionary live. I have to often tell the obstacle spotter side of me to shut up until we have a direction and then help me find a way over or around the obstacles. It's the difference between being negative and positive. I think we all have both voices within us. 
I've lived a "what if" life. We sometimes evaluate thing with scenarios, what if this happens, or what if that happens. We have to tip the scales to the positive side. Those with the gift of asking, "What if this doesn't work?", have to be tempered and overridden whenever wise by the voice that asks, "What if this DOES work?"
We make financial decisions based upon "what if" scenarios. We diversify our investments so that if one investment tanks, and we lose most of it, other investments remain. When we diversify we reduce both the chance that we will have astronomical gains or astronomical losses. The gains and the losses temper one another and our growth is a modest growth. 
A "what if" scenario is not an "all in" scenario. 
I realized I've been investing my life much as I have been investing my money.
There are two places to invest our lives: In the eternal unseen realm and in the temporary realm of the seen. As I continue to grow and continue to learn the Christ-life, I've realized that in some ways, I've invested my life so as to not be "all in." On either side. I've not done it intentionally, but looking back I have recognized the stages of my growth and progression. 
"What if" God is not real?
What if God is not real? What if heaven is a lie? What if, when we die we just cease to exist? If that is the case, I will be fine. I've invested enough in the joys of this present life that I cannot consider my life to have been wasted, and I've gained the blessing of the comfort I've experienced and the confidence I have gained in believing that God was watching out for me and that the people that I have loved who have died, I will see them again. 
From an investment standpoint, I've hedged my investments, my bets, and I am safe. 
"What if" God is real?
What if God is real? What if heaven and hell are real? What if the Word of God spoken into us through the Bible and thousands of years of orthodox prophetic revelation is truth? What if men and women die in their sins? What if eternity is real and when we leave this present existence we will bow before God and live in His Presence forever? 
From an investment standpoint, I've hedged my investments, my bets, and I am safe. 
I have believed, I have trusted God enough to have a home in heaven. I have trusted God enough for my sins to be forgiven. I have hell insurance through the assurance of salvation through the blood of Jesus. I have a "get out of hell free" card that I can play on judgement day, because Jesus paid it all. 
From a "What if" perspective… I am good!
So if God is not real, I've lived a wonderful adventure filled life, I've loved my family, I've experienced a lot of pain, but everything is good. When I cease to exist, I will leave behind people who are well that I loved. 
If God is real, I've served him, believed in him, and trusted him. I have met the requirements of scripture for entry into heaven. I am saved. 
Living an "as if" life…
But there is one problem with living a life where we hedge our bets and we live in such a way as to be okay whichever "what if" proves to be truth: God invites us to be "all in" on a sure thing. I am coming to realize a need to live not according to "what if" God is real and He is Truth, but rather"as if" all of this stuff we believe is true?
What has prompted this line of thinking in me? Its because of the increasing investment I am making in eternity. It has cause me to ask again, "what if" eternity isn't real, because if it isn't I'm wasting a lot of life. 
The decisions we are making at this point in our life are not "what if" decisions, they are "as if" decision. We are deciding, in increasing measure, to live and invest our lives "as if" God and eternity are truth, "as if" Christ's news is Good News for every nation, and "as if" we can actually discern the will and direction of God. 
How do we "know" that we know sufficiently to live an "as if" life?
In John's epistles the theme is "know"
"And by this we know that we have come to know him, if we keep his commandments." 1 John 2.3 ESV
"Beloved, we are God's children now, and what we will be has not yet appeared; but we know that when he appears we shall be like him, because we shall see him as he is." 1 John 3.2 ESV
"By this we shall know that we are of the truth and reassure our heart before him; for whenever our heart condemns us, God is greater than our heart, and he knows everything." 1 John 3.19-20 ESV
"By this we know that we abide in him and he in us, because he has given us of his Spirit." 1 John 4.13 ESV
"I write these things to you who believe in the name of the Son of God, that you may know that you have eternal life." 1 John 5.13 ESV
We will not be ashamed…
Shame is a powerful motivator. The potential for shame motivates us to do or not do things we would otherwise do. The fear of being shamed or ashamed keeps us from doing stupid things or things that may not turn out the way we hoped, thus leaving us feeling and looking foolish. 
The fear of shame will lead us to a "what if" life, and hinder us from living an "as if" life. 
Three remarkable instances in scripture reference shame in relationship to choosing to live an "as if" life.
In the second prison epistle written to Timothy, the Apostle Paul writes, "… But I am not ashamed, for I know whom I have believed, and I am convinced that he is able to guard until that day what has been entrusted to me. Follow the pattern of the sound words that you have heard from me, in the faith and love that are in Christ Jesus. By the Holy Spirit who dwells within us, guard the good deposit entrusted to you." (2 Timothy 1.12-14 ESV)
It is interesting that much of the New Testament was written by a man in prison for preaching the gospel. Paul is not ashamed because he knows in whom he has believed. He is convinced that God is able to guard until "that day"… what day? The day that eternity kicks in, the day he knew would come. Paul was living "as if" he knew that day would come. 
In the prison epistle Paul wrote to the people in Philippi he wrote, "…as it is my eager expectation and hope that I will not be at all ashamed, but that with full courage now as always Christ will be honored in my body, whether by life or by death. For to me to live is Christ, and to die is gain…"  (Philippians 1.20ff ESV)
Again, Paul is not ashamed of his chains because he recognizes that he is living his life with a full confidence that he is on the right path. He is living an "as if" life. 
The third scripture of note is from David, the 25th Psalm, "O my God, in you I trust; let me not be put to shame; let not my enemies exult over me….Oh, guard my soul, and deliver me! Let me not be put to shame, for I take refuge in you. May integrity and uprightness preserve me, for I wait for you." (Psalms 25.2, 20-21 ESV)
David's enemies often seemed to be overcoming him and in the short-term, this made David's choices appear to be wrong choices. When a deposed king lives in a cave in hiding, he could question the direction of his life and choices. David's prayer was, "Let me not be put to shame, I was living an "as if" life, and now I must trust that integrity and uprightness will preserver me and prove to be truth in the end."
Sacrifices of our hope in this present world to gain the joys of eternity…
God is an incredibly gracious God, we are his very own children and he leads us. He loves us. He gives grace. We grow into surrender. 
As we've come into a deeper trust, we are being empowered to live an "as if" life. We aren't there yet, and it will always be a journey for us, but the further we go the more we anchor in the reality of eternity rather than in the temporary that surrounds us. 
This is faith. This is trust. This is believing. 
We could not bring ourselves to walk the paths we are walking or to make the decisions we are making if we were still wrestling with "what if" this is true, or "what if" this is not true. We are deciding to live an "as if" life. We will make our decisions and live our lives as if what we have believed is true. 
"What if" it's not? … We've eliminated that possibility from our thinking as much as God gives us the grace to do so. We have decided. We will not be ashamed, but we will walk in integrity and trust in the ways that God teaches us to trust. 

If you would like to comment on this post, we would welcome your feedback on our