Podcast: Play in new window | Download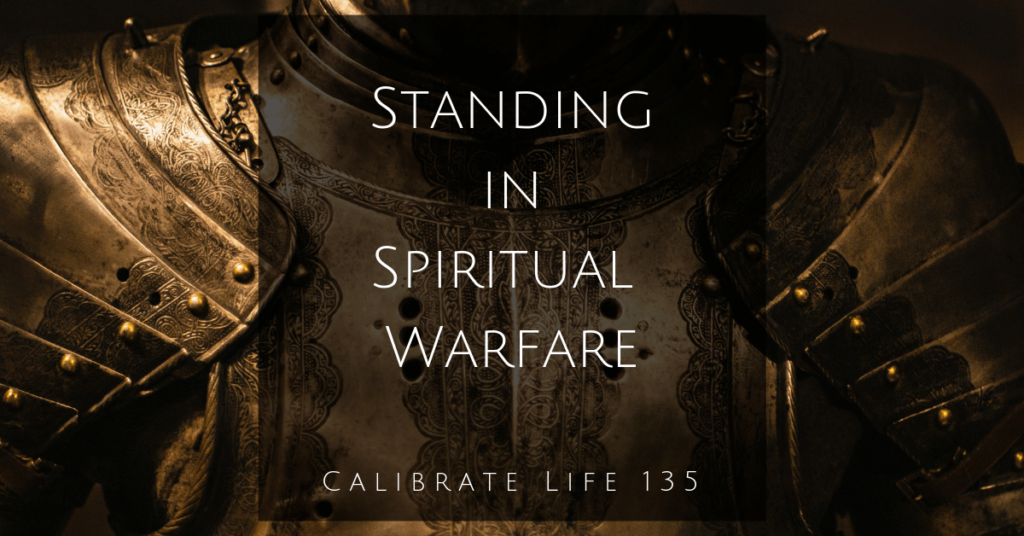 Spiritual warfare is a real. Often, life's obstacles come from our stupid choices or uninformed decisions, but if you are attempting obedience, if you are attempting to follow a bold God-path, if you yield yourself to be a part of the solution to some of the problems of this world — you are going to face a dark spiritual opposition. Count on it.


Standing in Spiritual Warfare
I am not a spooky kind of guy, but I am deeply spiritual. I understand the spiritual realities of the seen and the unseen, but I have lived my life defaulting to a cause and effect based largely upon our own choices.
I do believe God leads us in his paths if we commit our ways to him. I do believe God is sovereign and that he does work all things for the good of those who love him and are the called according to his purposes. I also know we fall victim to a lot of our own stupid mistakes and uninformed choices.
Sometimes we are just paying the price for our lack of preparation and unwise choices.
Then, there is the "fellowship" of sharing in the sufferings of Christ. There are the things that happen to us that we do not understand and cannot reconcile to either God's plan or his love. Jesus promised us that we would experience persecution, suffering, and opposition just as he did. When we stand on the promises of God, we sometimes forget about that one!
A sub-theme of this podcast, since nearly its beginning is the "great adventure." It is what we (David and Donna) call the new, risky, and sometimes scary path that's emerged in our lives over the past few years. We believe many are on or being wooed to their own God adventure, because to us, the great adventure is the God adventure.
So, in this episode 135 we want to discuss a present reality for us, and for most of you, that when we boldly declare God's intentions for our lives, when we merrily start down the path of God's great adventure for us, there is excitement and there is opposition.
We are feeling the opposition.
Remember, we started this conversation by saying that often life's obstacles come from our stupid choices or uninformed decisions, we all make mistakes and have lapses of judgement. But if you are attempting obedience, if you are attempting to follow a bold God-path, if you yield yourself to be a part of the solution to the problems of this world — you are going to face a dark spiritual opposition. Count on it.
A Look at Ephesians 6*
"Finally…" This passage starts as a summary of what the apostle wants to be sure his beloved Ephesians Christ-followers remember.
"Finally, be strong in the Lord and in his mighty power. Put on the full armor of God so that you can take your stand against the devil's schemes."
My entire life I've seen cartoons of a little red figure with a pitchfork, horns, and a tail standing on a character's shoulder and whispering into their ear. It seems so whimsical and benign. Not reality.
If you believe the Bible, if you believe God, you also acknowledge the existence of the devil. See, I don't even like to say "the devil." It sounds so foolish. That's part of the plan against us.
I admit that I unintentionally avoid using the names "Satan" or "devil" and I usually use the term, "our enemy." "Enemy" can be construed in many ways, and of course, we often are our own worst enemy. I don't want people to think I'm nuts. But see, the realm of the "unseen" is a spiritual reality that defies the logic of the "seen."
Ephesians 6 goes on to say, "For our struggle is not against flesh and blood, but against the rulers, against the authorities, against the powers of this dark world and against the spiritual forces of evil in the heavenly realms."
Wow. So, what we are up against isn't as simple as human opposition or overcoming our own foolishness, when we get serious about the God-adventure we stir a hornet's nest of darkness.
Okay, so, our great God-adventure is about lifting leaders in 30+ nations of Africa. By God's grace, through partnership with many, many others, we intend to see an increasingly redeemed and transformed Africa. I will go a step further: We believe that God has his hand upon the people of Africa and they will become a formidable force for world evangelization in the decades ahead. You see, we believe God is raising up the church in Africa to literally impact planet earth with the transformative gospel of Jesus Christ.
That is our "why."
Alrighty then, let's just slap the hornet's nest.
Ephesians 6 goes on, "THEREFORE put on the full armor of God, so that when the day of evil comes, you may be able to stand your ground, and after you have done everything, to stand."
1 Peter 4.12 says, "Dear friends, do not be surprised at the painful trial you are suffering as though something strange were happening to you. But rejoice that you participate in the sufferings of Christ, so that you may be overjoyed when his glory is revealed."
James 1.2 says, "Consider it pure joy, my brothers, whenever you face trials of many kinds, because you know that the testing of your faith develops perseverance…"
If You Are Embracing a God-Adventure, You Will Be Opposed by the Devil
Yep, there you go — I said it. Call me nuts, wacko, whatever, it is a fact.
If You Try to Fly Under the Radar, You Will Be Minimized and You Will Not Realize the Intent of Your God-Adventure
In other words, you won't be bold enough to step into God's plan unless you trust Him and the "armor" he provides to shield you on this path. Your actions will stir opposition, you have to TRUST God to be your shield in matters beyond your pay grade.
Psalm 28.7 says, "The Lord is my strength and my shield; my heart trusts in him and I am helped…."
Psalm 18.2, "The Lord is my rock, my fortress and my deliverer; my God is my rock, in whom I take refuge. He is my shield and the horn of my salvation, my stronghold."
I find myself trying to fly under the devil's radar. I don't want to be too bold or brash. I don't want to call attention to myself in hell, I don't need that kind of trouble. I like to leave hornet's nests alone. But here's the thing, this is not my battle, this is not my war, this is not my mission, this is not my path. I am under a directive from my God.
The battle is the Lord's, it will stir the hornets, but I have to trust God to protect us from the hornets.
If You Are Embracing a God-Adventure, You Need Partners to Hold the Rope
In Jeremiah 38, Jeremiah was thrown into a cistern as a death sentence because he obediently spoke the word of the Lord and angered the officials. He would have died, except Ebed-Melech took some men with him, fashioned a rope out of rags and let them down into the cistern. Lovingly he instructed Jeremiah to put the rags under his arms and they lifted him out.
We need people to hold the rope. We need people who will pray for us and stand with us. The warfare is real and the darkness must be pushed back.
It is easier to live our lives under the radar, to not present ourselves as a target, to try to gently move things forward. But on a God-adventure, sooner or later we pull out the straw that causes all of the others to cascade down. When that happens we gain the unwanted attention of the whole room. We gain the attention of those who can cause problems for us. Better to leave the straws in place or we will get thrown into a pit.
Pits are a given, so we need rope holders.
If You Are Embracing a God-Adventure, Don't Be Surprised by the Battle
What prompted this podcast episode? Well, we've been noticing an increased spiritual opposition. I don't like to talk about things I'm too close to, but I think we are going to stay close to this one.
We recognize the protection and provision of God. We are tremendously encouraged. Yet, we have come to recognize that some of the constant physical attacks are spiritual warfare. Some of the darkness we feel crowding in, we recognize it as spiritual warfare. We are not novices and we've seen this before, and we will see it again.
So, How Do We Respond?
Stand. Having done all to stand, stand. 
Trust. God is our shield and he is sovereign. 
Be bold. We could say a lot about living a life surrendered to Christ, so this is humility and not arrogance, but if God has called you to a great God-adventure, then boldly walk into it. 
Finally…
I am not going to sit around passively and attribute every challenge and hardship to a spiritual opposition that can only be addressed in the heavenlies. I believe God has given us wisdom, understanding, abilities, gifts, intellect, and the tools we need to face the challenges of life.
You have to grow, stretch, and develop to rise to the challenges of life.
You need to pray and seek God's divine strategies to move us along in the great God-adventures of our lives.
I do not advocate passivity and just sitting around praying when there are directed actions to be taken.
However, you have to understand spiritual realities and exercise discernment. There are those times when the hornets are stirred and you engage a spiritual battle that is far beyond flesh and blood solutions. In those times, you have to put on the "armor of God" (Ephesians 6) and STAND!
When we are afraid, we will TRUST God, and we will STAND.
*scripture references in this article are from the 1988 NIV

---

To comment on this post, join our facebook page at this link and comment there. https://www.facebook.com/Calibrate360