Podcast: Play in new window | Download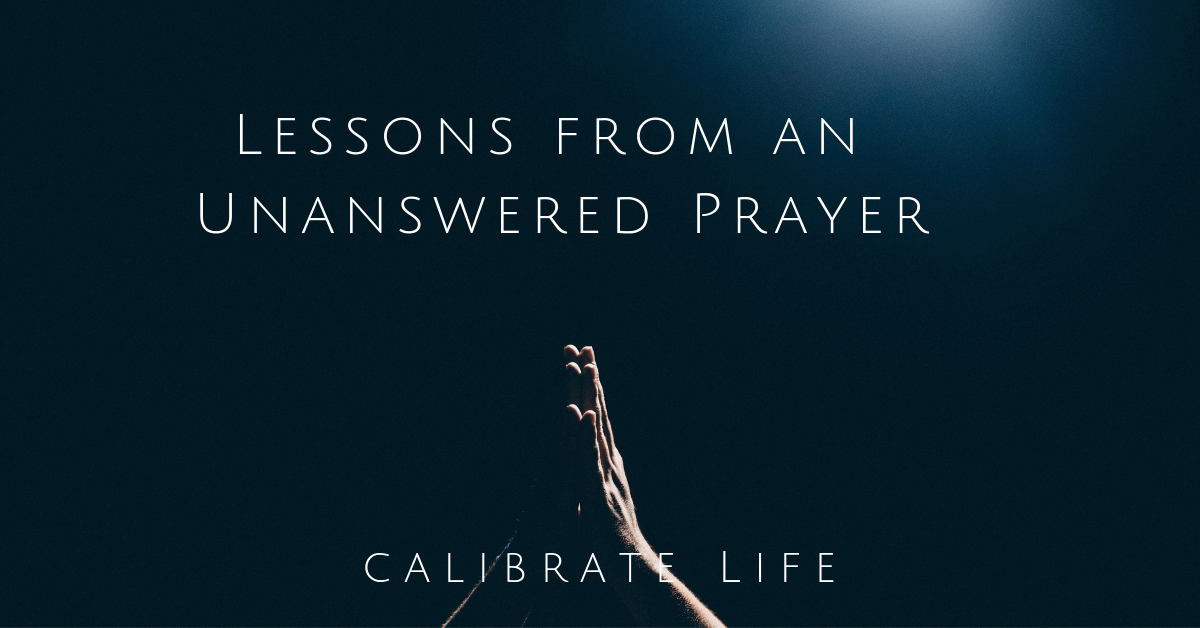 Part of our story is about having our confidence shaken that God would answer our specific prayers. We had to rebuild the way we viewed prayer. Will God answer our important prayers, and how do we know we are praying the right things? In this episode of the Calibrate Life Podcast, we talk about "Lessons from an Unanswered Prayer."

continue reading for the episode notes…
Lessons from an Unanswered Prayer
"…do not be anxious about anything, but in everything by prayer and supplication with thanksgiving let your requests be made known to God. And the peace of God, which surpasses all understanding, will guard your hearts and your minds in Christ Jesus." (Philippians 4:6-7 ESV)
Our story is one of believing God, but losing the confidence that our specific prayers would be answered. We knew and continued to believe in the goodness and the sovereignty of God, but because of our experience, what we saw with our "eyes," we reasoned that God would do his good and perfect will, in spite of what we asked. 
We react to the crisis moments of our lives in the context of our transformation. Our response to a specific and important request not being granted was to examine our failings and humanity, because God is perfect and without flaw. So, the flaw had to be in us. 
Either we did not understand God, we did not understand prayer, or there was something wrong in us. 
Others in the same situation will respond according to their transformation. Some may dismiss God's existence, because if there was a God of love, he would have intervened in this situation.  Some will dismiss the notion of God's personal involvement in our lives. For us, we continued to believe in the sovereignty, love, and wisdom of God, but we could not concede that our prayers mattered. 
Presenting our requests to God is still a challenge for us. We do not want to be "double-minded" as James wrote, we want to ask in unwavering faith, but sometimes our faith waivers, not because we do not believe in God, but because we cannot be sure what he wants to do. 
This was a gesture of kindness toward us, to save us from ourselves and our limited understanding. The one thing that is common to both Donna and I is we prayed the most important prayer we'd ever prayed in our lives, and what we specifically asked for did not happen. 
We can't just forget about that… our experience demands reconciliation with truth. 
Here's some things we've learned that changed the way we pray.
First, Listening is More Important than Asking
This is our greatest lesson: Listening is more important than talking. 
When we listen, the Spirit directs our praying.
"But, as it is written, "What no eye has seen, nor ear heard, nor the heart of man imagined, what God has prepared for those who love him"— these things God has revealed to us through the Spirit. For the Spirit searches everything, even the depths of God. For who knows a person's thoughts except the spirit of that person, which is in him? So also no one comprehends the thoughts of God except the Spirit of God. Now we have received not the spirit of the world, but the Spirit who is from God, that we might understand the things freely given us by God." (1 Corinthians 2.9-12 ESV)
When we call upon God (prayer), he shows us things we could not otherwise know.
"Thus says the Lord who made the earth, the Lord who formed it to establish it—the Lord is his name: Call to me and I will answer you, and will tell you great and hidden things that you have not known." (Jeremiah 33:2-3 ESV)
My mission is the listen to the heartbeat of God, and then, and only then, say what I hear.
We live our lives in the Presence of God, passions arise with us an ignite, God's path emerges, and a practice results. The actions, habits, and practices that move God's Kingdom forward always originate in our intimacy with God. 
What could have possible prompted us to give up our ministry career, our paycheck, our security, and follow God's call to give what God had given us to the Body of Christ in Africa? 
It was a progression of listening over a period of years. Cycle after cycle of revelation begetting transformation. This continued until the trust level was high enough to embrace what we heard in our spirits. 
God's peace surpasses, goes far beyond, our understanding. 

Second, Pray According to the Will of God
The greatest obstacle to praying according to the will of God is the fear that God's will is not what we will want.
The scripture says, rather than being anxious, or stressed, we are to ask God, from a posture of thankfulness, we humbly plead with God. This is supplication. Ask. We are instructed again and again to ask God, to believe God, to expect good things from God. 
2 Samuel 12 relates the story of King David praying for his dying son. David put on sackcloth and ashes, the way that people ultimately humbled themselves before God in those days, and he pleaded for his son's life. Observers thought he had gone mad, and when the child died they were afraid to tell him because they feared it would push him into insanity. 
When David was informed, he got up, washed, dressed, and worshipped God. When questioned about his behavior he said, "While the child was still alive, I fasted and wept, for I said, 'Who knows whether the Lord will be gracious to me, that the child may live?' But now he is dead. Why should I fast? Can I bring him back again? I shall go to him, but he will not return to me." (2 Samuel 12.22-23 ESV)
Our souls do demand that while there is hope we earnestly and fervently call out to God. We don't know everything and the emotions of our soul are often unable to receive the full revelation from God. 
Our praying in the Spirit with a heart of thanksgiving and trust toward God will guide us in our asking and in our faith. 
I do not remember where or when I first heard it, but these words that I attribute to Timothy Keller, gave me the comfort to rebuild my faith in God, "The prayer I want God to answer is the prayer he knows I would have prayed had I known everything that he knows."
The prayer I want God to answer is the prayer he knows I would have prayed had I known everything that he knows.
This is a matter of the heart. I trust the wisdom and the understanding of God, and when I cannot even see straight, I trust God to hear the very depths of my soul and spirit. 
In the garden of Gethsemane, Jesus prayed, "Father, not my will, but your will be done."
The Hebrew young men in the Book of Daniel, being thrown into the fire, said, "Our God is able to deliver us… but if he does not, we will not bow to idols." 
In The Pursuit of God, A.W. Tower writes this prayer, "…Rise, O Lord, into Thy proper place of honor, above my ambitions, above my likes and dislikes, above my family, my health and envy my life itself. Let me decrease that You may increase, let me sink that You may rise above…" 
We do not pray according to our desires, the things we want, or our own will, we pray to the end that God's will is accomplished. Because we trust. Praying according to the will of God is only possible when we yield ourselves to his shaping and direction… and, again, this is why listening intently to his heartbeat is so important, even to our praying. 
We do not presuppose the will of God, it is revealed to us. Our praying is usually a part of the process of the revelation of God's will. The scripture says that His peace surpasses our understanding.
There are a lot of things we will never understand, but God's peace will guard our hearts and our minds in Christ Jesus. 
When we pray in the Holy Spirit we pray according to the will of God.
"Likewise the Spirit helps us in our weakness. For we do not know what to pray for as we ought, but the Spirit himself intercedes for us with groanings too deep for words. And he who searches hearts knows what is the mind of the Spirit, because the Spirit intercedes for the saints according to the will of God. And we know that for those who love God all things work together for good, for those who are called according to his purpose." (Romans 8.26-28 ESV)
I look at the map of Africa hanging in my study. We are called to impact and lift leaders across that continent, to disciple them to multiply the church. I look at the names of cities to which I've never been, places where we will plant churches, places I will become familiar with as I spend months working with teams to root the church into those cities. 
I do not yet know what that looks like. I do not yet know what to ask. I pray in the Spirit. I let the Spirit pray. When I do not know what to pray, we have been given this gift, I pray according to the perfect will of God when the Spirit prays through me. 
When we pray in the Spirit,  we are praying the prayer we would have prayed had we known everything that God knows. 
Third… Journal
When you listen, write what you hear. It will become a blueprint for your life. 
Finally…
When you listen to the heartbeat of God, he shows you what to pray and the things to pursue. When you pray in the Spirit, God directs your asking. 
Our words have power. Our self-talk is actually important because self-talk leads to activation. Consider how much more important God-talk is. God reveals things to our spirits and we speak them in prayer.
Praying leads to activation. Praying builds our faith because we are speaking the revelation of God. 
Ask. Tell God. Humbly plead with God for the things important to you. From that posture God will shape your asking, he will shape your expectations, he will show you great and mighty things that you could not have otherwise known. 

If you would like to comment on this post, we would welcome your feedback on our