Podcast: Play in new window | Download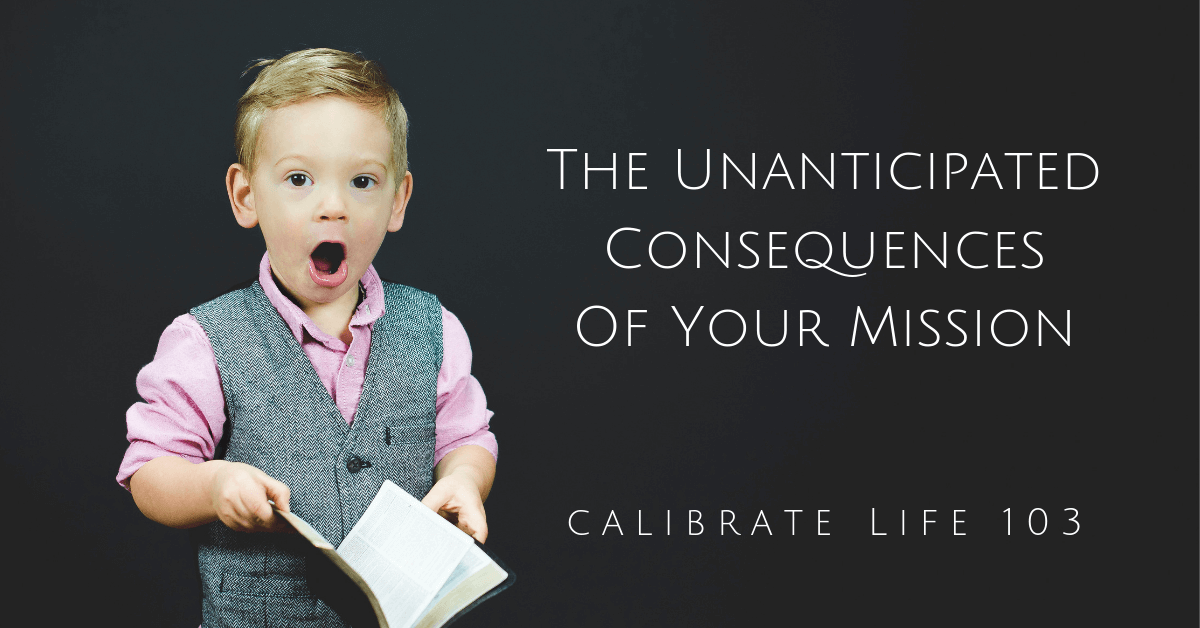 Someday, at the end of your journey, you will look back at the mission you passionately pursued, and you will realize there were a lot of unanticipated consequences. In this episode we discuss some things we are learning about how we all can better position ourselves to live and lead in such a way as to give room for the unanticipated consequences of pursuing our mission. 
continue reading for the episode notes…
Discovering the Unanticipated Consequences of Your Mission
When I look back I can see the things I set out to accomplish were not always the most important things God accomplished. We were in the right places, we were doing the right things, we were moved along by a sincere understanding of our mission; yet, when we look back we see that the most profound things that happened were not the things we anticipated. 
Here are a few things we are learning our present mission. We will also consider 3 parallels from the New Testament book of James.
First, The Mission is Building the Kingdom of God
In considering our focus for 2019, I declared, "Our focus for 2019 is raising this budget." Actually, I am currently learning that the main focus is not raising funds, it is a HUGE concern of ours, but the focus is upon building the Kingdom of God in and through this season. 
This past weekend, in Fort Wayne, Indiana, we met with a lot of people and groups of people. Some of the meetings involved interaction with young leaders on their journey of discovering and walking the path of God for their lives. Our lives were enriched, we were encouraged, it was important. 
One of our anchor scriptures is Matthew 6.33, "Seek the Kingdom of God first, and all of the other things will be added to your life." We've done that, we've sought to put God first, to sincerely follow his path and agenda. We've done our best to follow. Now, we are to trust God to provide the resources, both miraculously and through our faithful diligence. 
Do Not Presume Upon the Will of God (James 4)
"Come now, you who say, "Today or tomorrow we will go into such and such a town and spend a year there and trade and make a profit"— yet you do not know what tomorrow will bring. What is your life? For you are a mist that appears for a little time and then vanishes. Instead you ought to say, "If the Lord wills, we will live and do this or that." James 4.13-15 ESV
I wrote about this in a previous blog post (LINK). We have a plan. We are executing that plan. But we are aware that sometimes, when we look back, we see that the mission we thought we were accomplishing wasn't even the mission God was accomplishing through us. 
I've often quoted Timothy Keller, "The prayer I want God to answer is the prayer he knows I would have prayed had I known everything that he knows." I expand upon that with this, "The path I want to walk and the things I want to accomplish are the things I would have set out to accomplish had I known everything God knows. 
Our path is about bringing glory to God and expanding His Kingdom. What if it doesn't look like I thought it would at the end of our journey? Our business is obedience, following, and having the confidence in the wisdom of God to move diligently forward with trust. 
Seek God for Wisdom… then Don't Doubt (James 1)
"If any of you lacks wisdom, let him ask God, who gives generously to all without reproach, and it will be given him. But let him ask in faith, with no doubting, for the one who doubts is like a wave of the sea that is driven and tossed by the wind." James 1.5-6 ESV
The context of, "…let him ask in faith, with no doubting…," is related to asking for wisdom. We must have confidence in the paths we've followed with integrity and sincerity. We cannot constantly doubt the emerging paths. God will give us wisdom, and he will make it plain to us when we need to adjust the path.
Sometimes the mission we think we are on is not the mission God sovereignly sees. It's okay, as we walk, the wisdom of God will lead us, and the real mission will be fulfilled. 
Second, we must continue to be moved by the Wind of the Spirit.
What got us here was following God, what's going to move us forward is following God. We yielded to this great adventure because the wind and currents of God were taking us here. It's interesting how we get where we are by following the wind, and then we try to move it along through our singular effort. Episode 102 was about this tension and balance between the supernatural and the strategic. Both are necessary, but strategy must be a divine function of revelation. 
Fund raising (resourcing) is both strategic and trust. I've got to be cautious in sizing up a situation and deciding whether or not I think it worthy of my effort. If we are focused on raising funds, then our tendency is to position ourselves where we think we will find the funds. I'm not saying we should not think strategically, what I am saying is sometimes we totally miss something God is trying to do when we steer too tightly. 
Several weeks ago, I went to a large leadership conference my friend hosts. I have to admit, I only went because my friend hosts the conference, has for several years, and I've never attended. I wanted my friend to know that I support him, so I went. 
I kept thinking, "I am wasting my time, I probably won't learn anything, and I will probably just sit alone in the sessions." I kept thinking that I should stay home and make contacts and try to move the mission forward. I just had a sense, a feeling that I should go, that it was the direction of the Lord, so I went. 
For lunch, I faced eating lunch alone. I didn't see anyone I knew. Food trucks were on site. It was cold outside, but a large tent with heaters and tables was set up on the grounds. I stood in line, cold and alone, and bought lunch. I went in the tent and scanned the tables for someone I might know, no one. I just sat down, alone. I struck up a conversation with a young man across the table. We had a good talk. 
When I was almost finished eating a man near my age sat one chair down from me, leaving an empty chair between us. We started talking, just about life and the conference. He asked me what I did, I told him my background, what we were doing, handed him a card. He asked me about churches in the area because he and his wife were in transition and needing a church home. We talked about that. He texted me so I would have his contact info. 
A few weeks later, my new friend and I met for breakfast. Again, I thought to myself, I should spend all of my time today connecting with pastors and trying to raise these funds, but this is a new friend, and I feel the need to connect with him, so I took the time to connect. We talked about life, family, and leadership, and found a few common connections. 
A couple more weeks later, one evening I got a text from him asking if it would be okay to give me a call. I said, "sure." He called, put his wife on speaker phone, and they told me they wanted to support our mission to Africa. They are, as of right now, our biggest individual supporters. 
We were so encouraged that from a place and relationship totally unexpected, we've found people who have a heart to partner in this mission. We look forward to building a relationship with them. 
Where our strategies fail, the Wind of God will always take us where we need to be, when we need to be there. 
Follow the Wind Rather Than Your Flawed Logic (James 2)
"For if a man wearing a gold ring and fine clothing comes into your assembly, and a poor man in shabby clothing also comes in, and if you pay attention to the one who wears the fine clothing and say, "You sit here in a good place," while you say to the poor man, "You stand over there," or, "Sit down at my feet," have you not then made distinctions among yourselves and become judges with evil thoughts? Listen, my beloved brothers, has not God chosen those who are poor in the world to be rich in faith and heirs of the kingdom, which he has promised to those who love him?" James 2.2-5 ESV
When we size up a situation, or we anticipate outcomes based upon observation in the realm of the seen, we can miss the directives and blessings of the realm of the unseen. When we only spend our time positioning ourselves with those we think can do something for us,  we will probably miss the provision of God that comes through doing his work rather than sizing up situations as to what we think we might gain. 
We are going to trust God to lead us to the "who" and "what" he has predetermined are part of the path of the mission of God. 
Finally…
I wrote this in my journal the other day:
"Raising funding for God's mission accomplishes something necessary in us. It forces us to grapple with the calling and passions that lead us to Africa. It forces us to develop and articulate a narrative others can understand and embrace. It prompts us, again and again, to refine our own understanding of this mission. Routinely asking others to partner in this mission forces us to regularly confirm in our own hearts: This is worth it, this is important, this is a worthy investment of our very lives. This is a necessary part of this journey."
Isn't it amazing that the journey itself is the point? It's about what God does in you on the journey. It's about what he does in the lives of others along the way. We may think the mission is something strategic we are working on that begs accomplishing, but the journey is part of the mission and the mission is accomplished, not just when we get to Africa, or wherever it is we are going, but the mission is accomplished with every step. And when we look back, there is always far more to it than we realized. 

If you would like to comment on this post, we would welcome your feedback on our