Podcast: Play in new window | Download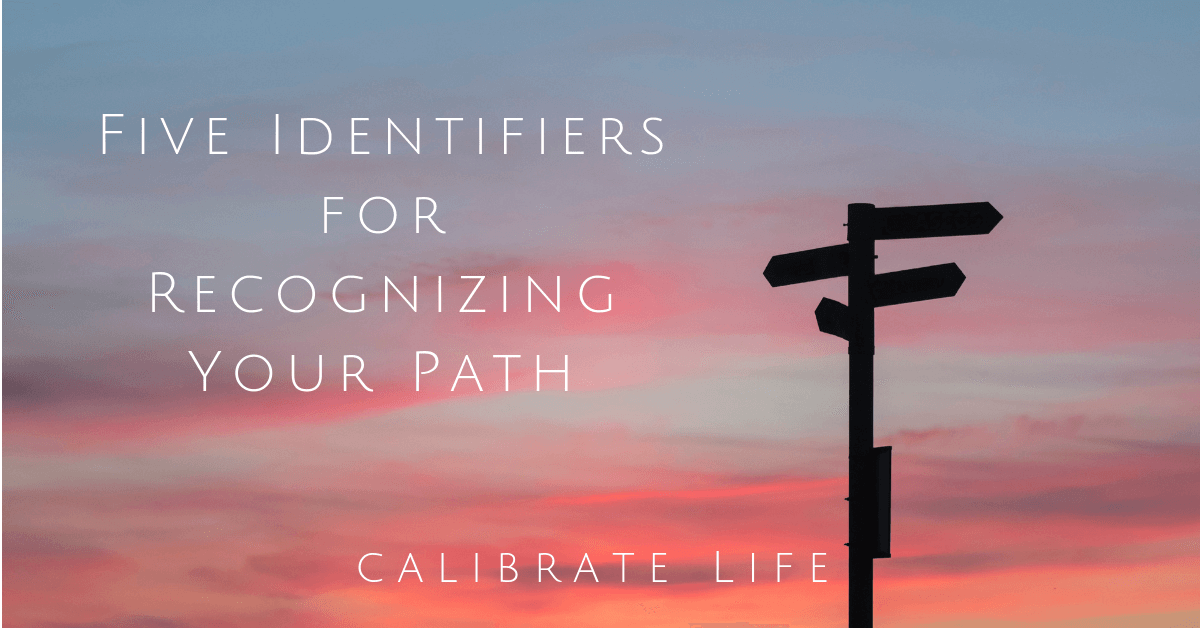 How do you KNOW you are on the right path? Are there identifiers that help you RECOGNIZE the path you are to follow. On our journey we discovered some identifiers that helped us recognize our path. In this episode we discuss some of the markers or identifiers that may help you recognize and embrace your mission path.
Listen to the Podcast…


Continue Reading for Our Episode Notes…
Five Identifiers for Recognizing Your Path
We've taken some pretty bold steps lately in pursuing our life mission. This has been more than a two year process for us and we've identified some identifiers that helped us recognize our path. In this episode we discuss and recap the things we've looked for that caused us to know the path when we saw it. 
The theme of the New Testament book of First John is how you know. This book was written to increase the confidence of knowing among the early Christ-followers. Here's some of the indicators of knowledge. 
This is how we know we know God — we keep his commandments (2.3)
This is how we know we have life — we love others (3.14)
This is how we know love —our willingness to lay down our lives for others (3.16)
This is how we know the truth and reassure ourselves before God — When our hearts condemn us, God is greater than our hearts (3.19,20)
We know we abide with God — because his Spirit lives in us (4.13)
This book is powerful for all of us because we have a need to KNOW. We want to make right decisions, follow right paths, and honor God… but how do we KNOW we are taking the right path. 
We, like most others, are willing to eagerly embrace any path if we KNOW it is the right path. If we KNOW beyond all doubt that something is our mission, we will take it up. But how do you KNOW?
Can we Leave Margin for Error?
Being 100% sure is wonderful, but rare. If we wait for 100% sure on face value we may never find the path for our mission. We do believe we can come to surety (at least reasonable surety) when we look for indicators while searching for the path. 
In the other hand, are we 100% sure we are supposed to stay? So often we don't move because of fear of making a wrong decision. 
In the New Testament book of Philippians, Apostle Paul is in the advanced stages of imprisonment, in chains, and awaiting execution. Yet, he struggles with whether his deliverance or his death is the will of God. He uses these words in making a determination, "Convinced of this, I KNOW…." Paul reasoned that God's will and path would be his release from prison. Didn't happen. Paul was executed. In a way, Paul miscalculated, in a way he was wrong, yet with a willingness for "whatever." 
Sometimes we have a strong sense of what is right, but we are wrong. We think we know the direction to go, the decisions we should make, and yet, because we do not have all the information, we were not spot on. 
We simply do our best to observe.
The Character and Nature of God. God is the same yesterday, today, and forever, he is consistent. God's stability and consistency should be reflected in His path for our lives. He never denies his character and nature, so our paths will be aligned with who he is. (Paul tried to reason based upon what God had done in the past.)
Does this make sense? The logical "sight" path is not always the right path, but sanity is a good starting point. When we start out on the logical path we leave room for the sovereign disruptions of God. We trust Him to bring redirection when necessary and we keep walking the direction that makes sense until the disruption comes. (Paul thinks through the situation and draws preliminary conclusions based upon what makes sense.)
Pick a path. We have to keep going and allow the path to progress, morph, and flex us to where we need to be. We embrace reality and work with what we have to work with at the moment.

 

Be confident. Paul said, "I am not ashamed of my chains." He chose a path, it resulted in prison, but he was confident he had followed the right path. Psalm 25 tells us, "Those who put their trust in (God) will not be put to shame."

 

Maintain a "Whatever" attitude. We have done our best to be obedient, the past is passed, we are where we are, and we will stay the ourselves as it unfolds. (Apostle Paul maintained a "whatever" attitude in that he was willing to die or be delievered.)
Donna and I have made some courageous decisions over the last several years. One of the most courageous decisions we've made was to keep living. To not give up. To trust that our lives were not over even when we felt like it and wanted them to be over. 
Courage is more about facing the things you fear than it is about not being afraid.
So… how do we know? How did we come to embrace our crazy path? In our praying some indicators surfaced, almost like sign posts, that would help us RECOGNIZE our path. We are staying flexible as we walk the path, but this is how we've refined our direction up to this point. 
These have been some of our indicators. 
#1 The Path Must Honor the Cost
"That which has happened to us" cost too much to waste. We've sown some precious seed, what we do with our lives from this point forward must be worthy of the seed. When we looked at the path we are now walking, we determined it to be worthy of the seed already sown. 
#2 The Path Must Anchor in the Unseen
Reality is far more than what we see with our eyes. So much of life and spirituality deals with things you cannot see. If we always choose our paths by what we can see, observe, and know in the human dimension, we eliminate faith. 
Our mission and life path must have an unseen or unknown element to it requiring the exercise of faith the bridge the gap between what we know and see and that which we cannot know or see until we get where we are going. 
"So we do not lose heart. Though our outer self is wasting away, our inner self is being renewed day by day. For this light momentary affliction is preparing for us an eternal weight of glory beyond all comparison, as we look not to the things that are seen but to the things that are unseen. For the things that are seen are transient, but the things that are unseen are eternal." 2 Corinthians [4:16]-18
#3 The Path Must Exceed Our Expectations
I've come to a few realizations. First, when contemplating the launch of a new church, I kept feeling restricted. I kept feeling the gifts God had given me and the way I've learned to exercise them was not intended for one congregational setting. Nothing wrong with that, it just goes to calling. I've come to realize that I have become a specialist and I will be happiest in settings where I can embrace my strengths. 
We talked about this a number of episodes ago. One of our directives was to anchor in Ephesians [3:20], "Now to him who is able to do far more abundantly than all that we ask or think, according to the power at work within us…." We've actually embraced this scripture as an indicator that will reveal God's mission for us. It had to be something beyond what we could imagine on our own. It had to move us into the God zone. 
This became pivotal in recognizing the mission when it presented itself. 
This could be a dangerous determination, but this was not a whim, it was revealed and nurtured in OUR hearts as an identifier. 
#4 The Path Must Require the Empowerment of the Holy Spirit
"…Not by might, nor by power, but by my Spirit saith the Lord of Hosts…." Zechariah 4:6
This indicator goes along with the others, but the distinction is, the mission to which God would direct us would far exceed our natural ability to accomplish it. We would need to rely, in greater measure than ever before, the empowerment of the Spirit of God. 
#5 The Path Must Depend Upon God's Provision
"Seek first the Kingdom of God and His righteousness, and all of these things will be added unto you as well." Matthew [6:33]
I like to do things on my own. I don't particularly like being in a position to have to depend upon God or others to accomplish an aim or mission. Like other independently minded people, I've had to learn that the Kingdom of God is about relationship and interdependence. 
To ask for help and partnerships is hard for me, as it is for many. I would rather be the one helping than the one needing help. 
This mission identifier taught me that if I can fund the vision without help from God or anyone else, it's not the mission. 
Our mission should lead us to the miracle of inter-dependancy. Our mission should teach us that thinking we can fund and supply every need is individualistic and arrogant. The blessing of God is how he meets our needs sovereignly and through partnerships. We all benefit and come to understand the provision of God. 
The scripture teaches us to obey first, to dream the dream first, to hear the voice and direction of God first, and then the resources will come. We will eventually do another episode on resources and their importance, but for now, we've learned that, for us, the necessity to position ourselves for obedience first and resources second was critical in our decision making. 
Calibration Tools… Calibrating Your Life and Lifting Those You Love and Lead
How do YOU know if you are on the right path? What are YOUR indicators that guide decision making in following your mission?
Make a list of the indicators you rely upon. What do you need to add or subtract from your list.

 

Pursuing your life mission is an every day thing. How do your or can you embrace where you are right now as your starting point? How can you embrace a "whatever attitude" to maintain the flexibility you need to keep moving forward with courage?
Finally…
We didn't realize it, but God directed us to look for sign-posts, or indicators, as to whether the paths that would present themselves were God's paths or not. Looking back we now understand that these indicators were given us for the purpose of KNOWING, at least as much as it was possible to know. 
We maintain a whatever attitude, but we go forward with confidence, because this looks like and feels like the right path and all the indicators seem to reveal it as such. 
We are all different and in different places, but through this presentation it was our hope to stir your thinking in what you are looking for as you see your mission path. God's mind doesn't change, but he has to change us. We can walk a lot of paths and move a lot of directions in the process. 
For us, we are still following. We know a lot of curves and even changes in direction await, but we confidently follow the indicators that assure us we are on the right path. 

If you would like to comment on this post, we would welcome your feedback on our