Podcast: Play in new window | Download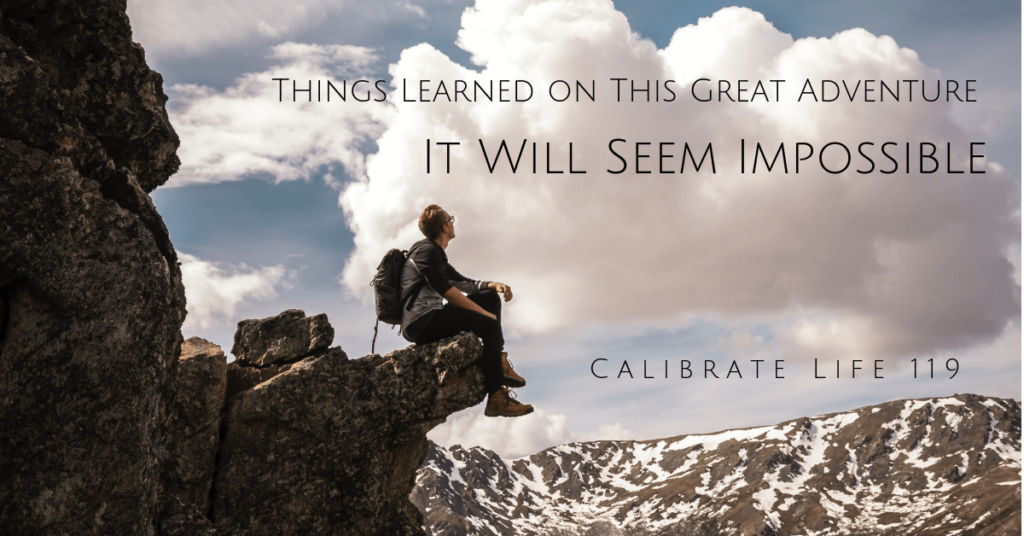 Great Adventures involve the impossible — otherwise it wouldn't be a great adventure. Trusting God for the impossible stretches us to new levels and intensifies our trust in God. We cannot let the things that seem impossible to us keep us from trusting God in our disciplined pursuit of his adventure for our lives. In this episode of Calibrate Life, we continue to discuss things we've learned on our great adventure and the necessity to embrace the impossible.


Continue Reading for the Article and Episode Notes…
If It Doesn't Have an Element of the Impossible… Then It's Not a Great Adventure
(This is a podcast, these are our notes, if you want the full essence of the conversation, you will need top listen to the podcast.)
The next few weeks we are just having a conversation about things we are learning on our great adventure. Last week we talked about the Learning Curve. This week we talk about…
Attempting the Impossible Requires God's Constant Help
Hudson Taylor, a greatly respected writer and missionary to China in the mid-1800s said, "I have found that there are three stages in every work of God; first it is impossible, then it is difficult, then it is done."
A great adventure is not a great adventure if it is possible. Its just an adventure. The GREAT adventure is the adventure of pursuing the incredible plan God has for your life, the plan and path he is revealing to you in chunks and pieces.
"The future has many names. The lazy call it impossible, the fearful refer to it as 'the unknown.' But the courageous embrace it by saying, 'This is my challenge.'" — Victor Hugo
Doing something impossible requires God's help.
"But he said to me, "My grace is sufficient for you, for my power is made perfect in weakness." Therefore I will boast all the more gladly of my weaknesses, so that the power of Christ may rest upon me. For the sake of Christ, then, I am content with weaknesses, insults, hardships, persecutions, and calamities. For when I am weak, then I am strong." (2 Corinthians 12:9-10 ESV)
I've often misquoted that last line, "…when I am weak, then I am strong." I have a tendency to refashion it to say, "…when I am weak, then God is strong."
God's power is made perfect in weakness. Why? Because when we get out of the way and depend upon God rather than just what we can do, in and of ourselves, that's where the miracles happen, that's where the supernatural happens, that's where we decrease and Christ increases. When it is obvious that God has done "it", then God receives glory, and then his transformational power… transforms.
While it is impossible, and while only God can do it… he then does it through US. Hence, "when I am weak, then I am strong."
When I am weak, then I am strong, because God's power is revealed in my weakness. It is about getting out of the way, it is about relying upon the strength of God.
Look, here's our journey… we've stepped out of the David and Donna zone and into God's zone. We have NO illusions that we can even GET TO Africa, much less see foundation shaking transformation in the lives of leaders that naturally spills out into the Body of Christ.
When will you step out of YOUR zone and into GOD'S zone?
We are often discouraged. We really cannot see a path. In my journal yesterday I wrote:
"I feel hurt inside me. I feel joy inside me. I feel dread and gloom. I feel excitement and optimism. Being a chameleon, I adapt quickly to situations and conversations. I am sincere in that I just tap into the part I am genuinely feeling that is most relevant to the moment.
Today, I choose joy. Today I choose excitement and optimism."
A Piece of Cake? … I don't think so.
Some said to us that because of our position, and because of our relationships, assembling a team of partners would be easy. I cringe every time someone says that. This is not easy.
If this were a piece of cake, if it were easy, if it did not require faith, then it would not be our great adventure. This is stretching us like nothing has before on so many levels.
"Easy" for us does not bring Glory to God. In the realization of your great adventure, it MUST be obvious to you and to everyone else that God did this. That's the way it will come down.
We tend to plan and reason and figure out where the resources will come from, but God is doing something in resourcing that involves the building of our faith, the work he wants to do in others through their participation, and the actual work He wants to accomplish.
We have to remember that our journey in resourcing the vision of God in our lives involves multiple layers of things God will accomplish through that singular activity… and only God knows!
The Great Adventure Can be Painful Because it is Impossible
To attempt the impossible, even with God's help is painful. The joy is in anticipation of the result.
The PASSION, The PAIN, and The PROMISE
There is the PASSION… those moments of excitement and anticipation of possibilities.
Then there is the PAIN… when we embrace the reality of the hard parts.
Then comes the PROMISE… the fulfillment, the culmination, the harvest.
In our great adventures, we have to have a PASSION before we will even start with the necessary intentionality. We will experience PAIN, trials, hardships, because anything worth accomplishing is going to take a path of resistance. But we keep our eyes focused on the PROMISE, when we see the fulfillment and the result of our obedient discipline.
Next week we are going to talk a little more about the PUSH through the PAIN part.
---

To comment on this post, join our facebook page at this link and comment there. https://www.facebook.com/Calibrate360