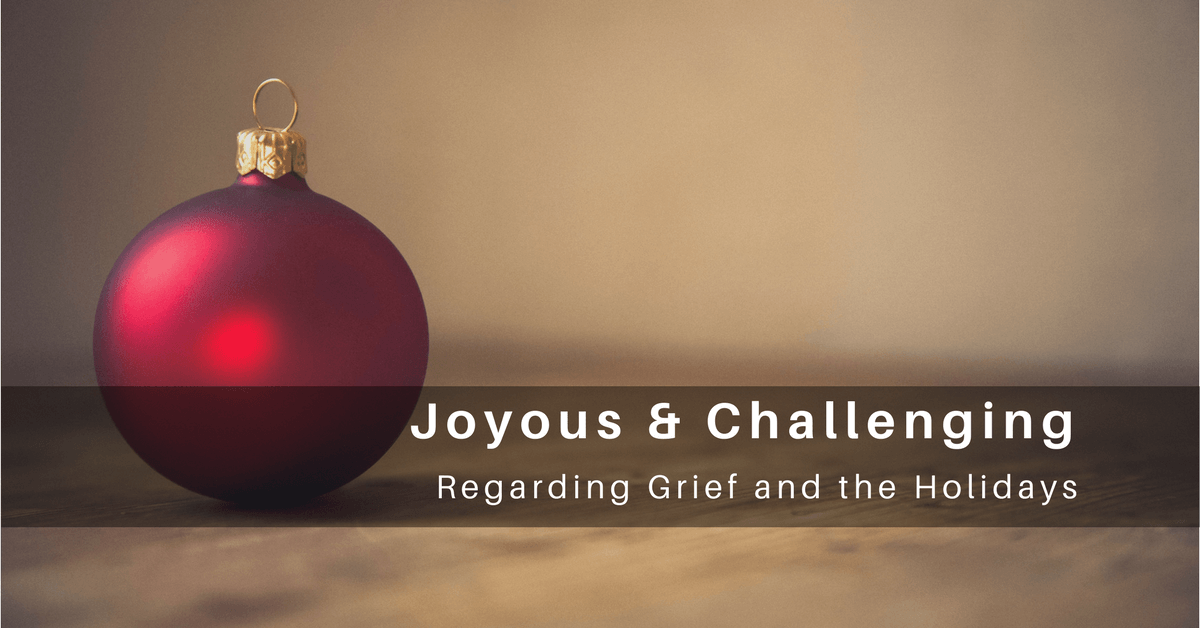 Podcast: Play in new window | Download
Holidays are typically focused upon family gatherings and joyous celebrations. As leaders how do we help those who are not feeling "merry" to navigate the holidays? And how do those who are feeling the emotions of loss navigate all of the gatherings and celebrations? In this episode David and Donna talk about both helping others navigate anxiety and emotions during the holidays and they also speak to those who are struggling a bit with the celebrations going on around them when they are hurting and not feeling particularly celebratory.
This content was repurposed from a Calibrate360 blog post posted on December 19, 2016 because it was a popular topic, because we believe it is still relevant… and we wanted to do a podcast on the topic!
Holidays Can Be Joyous and Challenging: Things to Keep in Mind Regarding Grief and the Holidays
I love Christmas; It's the holiday season I'm not so sure about. No this isn't a rant about shopping, but thoughts about the holidays for those who have recently, and not so recently, lost someone they love.
[shareable]Holidays are both joyous and challenging.[/shareable]
Losing someone is losing a piece of your world that you will never get back. It is a hole in your life that nothing else ever fills, because a unique and loved person is irreplaceable. There are two spheres of impact: (1) The more loved the person and (2) the more interwoven the person was into our life or "world", the greater the disruption. Donna and I have started a new and joy-filled life, but neither of us is a replacement for the person we lost. We are coming more and more to realize and deeply desire newness, allowing old things to pass away, redefining our world, embracing tightly the people we love, and moving into a new, unique, and exciting world. Etc.
The holidays are full of past memories. It is an emotionally charged time. We anticipate the joy of worshipping Emmanuel, God with us, and the setting aside of time with family and/or friends with the hope of creating special memories, while at the same time thinking about past happy times that cannot be recreated.
I remember sitting in church on Christmas Sunday just weeks after my loss. It was painful just being there. I left early. I left early most Sundays, because people seemed intent on making comments and asking questions that I did not feel like answering. In the void of an authentic relationship, most comments or questions people ask are about them and not about you. They want to express something they need to express, they want to ask a question that will help them process, they want to say something to you that will make them feel better. If you want to be helpful to someone who recently lost a love, before you do anything ask yourself this question, "Is this about me or them? In the context of the pre-existing relationship I have with this person, is there anything I can say or do that will help them?"
For those with deep loss, as time passes the challenge of people saying the wrong thing transforms into no one saying anything at all. During the holidays many are reminded both pleasantly and unpleasantly that some things precious are gone, never to return. There are those moments.
Here are a few things leaders (and all of us) should keep in focus for public gatherings during the holidays:
Not everyone in the gathering is having a "Merry Christmas."
This is not "the most wonderful time of the year" for some. For a very real number of people this is a very difficult season of the year.
Emotionally stable people who have lost loves know others are celebrating, they are good with that, but a tip of the hat that says, "I know for some this is a very difficult time." And a tossed bone of comfort goes a LONG way. That's all most of us need, just a brief acknowledgement. Acknowledgement validates our participation in the community.
[shareable]Acknowledgement validates our participation in the community.[/shareable]
I remember being at church on Christmas Sunday that first and second year, and the pastor did an incredible job of celebrating the joy of Christ's coming, celebrating the happy season for families, and acknowledging and ministering to the pain of those hurting. Excellent!
If you've not experienced the pain of a world-shaking loss, your entire tribe is gathering at your home, sitting by the fireplace, having dinner together, and you are all about that… cherish it, because it may not always be. Cherish it, talk about it, be giddy about it… but recognize that some are in pain.
Those who have recently lost people they love.
Those whose estranged from family and the holidays exacerbate the void.
Those with a son or daughter defending freedom in a far away place.
Those whose children and/or grandchildren live across the sea, or across the country.
Those who are single and alone and reminded of their loneliness moment by moment throughout the entire holiday season.
Acknowledge their existence, acknowledge their pain, give them something of the hope of Christ.
Here are a few things for those who have experienced loss to keep in mind during the holidays:
(And if you are reading this and do not know me… yes, I speak from experience.)
Realize others are celebrating, and that is important to them. Don't be so selfish that you think the entire world should be blue because you are. That's being selfish, albeit sometimes when we hurt we cannot help but focus on self. The world is not going to stop celebrating, and neither should it. The world would be a dark place if we were all blue at the same time. Part of being grown up is realizing the world does not revolve around what is important to us.
Realize you are not alone. A good number of the people with whom you interact have pain points during the holidays. They smile and try to mean it, but inside they are not always smiling. For most of them it is a mingling of joy with the bittersweet awareness that someone is absent from the celebration. In those cases we weigh joy against sorrow, we have our moments, and we move forward.
I've discovered that at least half of everyone out there (not scientific, just my observations from the response I get when I speak on this topic) have a pain point exacerbated to some extent during the holidays. More than half the people out there do understand on some level. Look at the list I made a few paragraphs up. If you need to talk, choose wisely, but there are people all around who will get it.
Easier said than done, but build new memories, new relationships, and find places of joy.
Donna and I have decided to contend for a joyful life. This blog is about leading, living, and loving beyond the tough stuff. It is about the daily war we engage to live a joyful life. That's right, we have to daily put on our armor, take up our sword, and do battle for a joyful life. We must contend for health, peace, loves, joy, and most everything else worthwhile. Those recovering from loss understand the oft fought battle against anxiety and depression and contending for a joyful life.
We are constantly looking for new things. New traditions (an oxymoron), new joys, things that will pull us forward and not backward.
Calibration Tools… Calibrating Our Lives and Lifting Those We Love and Lead.
How might you acknowledge someone else's challenges during this season?
If you are a leader, how might you acknowledge pain in the midst of joyful celebration?
If you sting from a loss, how might you find others to comfort in a healthy way?
Is there someone in your life who has encountered a loss, is estranged from family, has children and grandchildren far away, or who may just be generally lonely? How might you reach out to them with a text, a note, or an acknowledgement in a way that will comfort them?
Finally…
We choose to anchor in the thing that saved our lives when we walked through our darkest moments… Emmanuel… God WITH us! It is the feeling that we can overcome any darkness or challenge if God is WITH us. This is the reason for the season. The incarnation. God, now, WITH us.
Celebrate His Presence!