Podcast: Play in new window | Download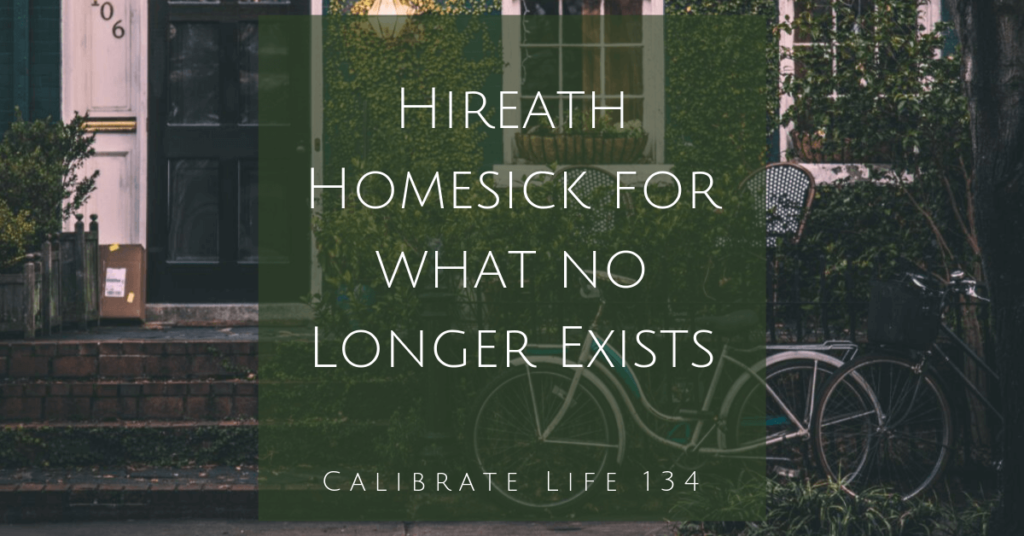 Hireath is an old Welsh word describing a feeling of homesickness for something that no longer exists. In the grief journey, in major life transitions, and in almost every pursuit of the great adventure, this is a feeling with which we must grapple.


Hiraeth: Homesick For Something That No Longer Exists
One of my lessons on the journey of suffering is to speak out of healing and wholeness rather than out of open wounds. The further away we get from the events that changed our lives forever, the more health and perspective we gain.
We each independently experienced a feeling (before we knew each other) that was difficult to put into words. It felt like a little like homesickness, a little nostalgically painful, but mostly it felt like a hole that could not be filled.
Throughout life you push through difficulties with a hope and an eye on getting to the other side of the difficulty. In our loss we had to push to get through it, but this time there was no other side. Yes, there was life and much life ahead, but the difficulty we were pushing through was not repairable or reversible.
Along the way we came across a word we'd never heard before, and that word, or at least what it meant described exactly what we were feeling. Sometimes, in one language there is no singular word to describe what you are feeling or experiencing. But there was a Welsh word that described it perfectly.
'Hiraeth' is a word which cannot be completely translated, meaning more than solely "missing something" or "missing home." It implies the meaning of missing a time, an era, or a person – including homesickness for what may not exist any longer. (Wikipedia)
"Hiraeth" is when a person and/or a world you loved and were comfortable in ceases to exist.
An important stage in the grief process is acceptance. It is when you finally start to wrap your head around what has happened and begin to progress in accepting it is a permanent situation.
Many things you can either fix or make better. The feeling we feel when we miss or long for something that cannot be fixed or restored is "hiraeth."
We have to be careful that we do not misplace the love we had for the place from whence we have come in such a way that we will not allow ourselves to love the place to which we are going.
It is okay to be "homesick" for something that no longer exists. In fact, it is a part of life whether you've lost someone important to you or not. Christmas and/or other times that were special to you and your family are nostalgic times. We miss the people no longer with us, we grieve a little because the family cannot all come together, many of the traditions cannot be practiced, and it didn't snow!
Those were wonderful times with people we love, but they won't happen again. The cast and the times have changed.
"Hireath" is the feeling we must overcome to move into new adventures.
Its not only about reflection on the things we've lost, or the things that have changed, or the things that will never be the same again, but its about embracing the good things ahead.
Honestly, this has been one of the most difficult things about our great adventure — this transition to the Africa mission. I really miss things that have become comfortable to me over many, many years.
And… its not just about embracing new things, it is the reality that things are not going to be the way I thought they would be for most of my life. I miss the things I used to do, the people I used to hang out with, the good things about my life before the loss and embracing this present great adventure.
It is part of it.
Here's something from my journal while on one of our recent longer journeys:
"I got up this morning in the condo and wanted to go "home." I want to be home this morning. But my emotions quickly transitioned to conform to the reality of Africa, travel on the continent, the back and forth, letting go of Graystone Manor (that's what I call our home), but reminding myself to not want to go home because home will from this point forward be forever vague.
Home. I want to go home. I've always wanted to go home. I have always loved home. Most of the time. Not a house, but a feeling. When home was disrupted, I longed for home. I feel at home when I go to the mountains, but I still want to go home.
Home is a little bit about the comforts of a familiar surrounding, having all of the things you've accumulated that you use in your routines. Knowing where everything is.
'Hiraeth' is a word which cannot be completely translated, meaning more than solely "missing something" or "missing home." It implies the meaning of missing a time, an era, or a person – including homesickness for what may not exist any longer. (Wikipedia)
This is the perfect word concept for what I often feel.
I am homesick this morning. I want Donna and I to go home this morning. Home is sort of Zionsville for me, it is sort of not Zionsville.
Home is 1005 Henry Street (the house I grew up in), but not what it is now, what it was then. But even if it was what it was then, I don't want to go back to that place and time, because there is THIS place and time that is now more important to me.
Princeton, WV and the blue ridge mountains are home to me. But the people that were there that made it home are no longer there.
Home is where Donna and I are.
It really isn't the place, it is the feeling. It is a feeling like the one I used to have when the girls were home, in their beds at night. I lay in bed and I knew where everyone was, that they were all okay in that moment. We were all home. It is a sense of peace and well being. Just knowing that in this moment, right now, all is well. Whatever it will be later, whatever it was before, right now all is well.
"Hireath" expresses it well. It is a longing for a place that no longer exists. It is a longing for a place and a feeling that does not exist and can never exist again.
You see, because we are homesick does not mean we want to leave the place where we are. It only means that we miss the place that is behind. I remember going to college at Southeastern and I remember being homesick. I wanted to go home, but I wanted more to be where I was and on the path I was on. I pined for home, but that longing was not enough to override the future I had chose and was moving toward.
Because I miss people that are gone, that are behind me, that does not mean that I would be willing to loose the people in my life right now for any reason. Given a choice to go back to the places I miss, if it meant losing my "right now", I would by no means do that. But, I still feel homesick this morning for what no longer exists.
I think that I realized this morning, getting up and wishing I were home, that when we go to Africa and one week turns into a month and a month turns into a year, and everything is different and I want to go home where I am comfortable and know how to do things, I will have this feeling. Just like I do this morning. I will have this feeling and it will stretch out into eternity like a feeling that has no ending, just like it does this morning.
When my wife died and the grave site service was over and the funeral dinner was done, I got in a car and went home, to an empty and painful life. I went into to a new reality. One that for a long time would bring nothing but pain as I walked forward.
I remember the pain. It went on and on. It still expresses itself as "hireath," a longing for something that no longer exists. The family times, the world as it was, with everything in a certain place…
Much of what we think remains is simply an illusion. My Princeton no longer exists. My family, as it was, no longer exists. There is a new reality, as there was and would have been anyway, no matter what had or had not happened.
In a simple sort of way,
(1) I think the great adventure is simply the willingness to embrace the change,
(2) to admit that what comforted us is really no longer there,
(3) and it is walking into a largely unknown future believing that we will find many homes… funny thing is… in a future decade, we will be homesick for this present time, which transitioned into another time and ceased to exist. 
Finally…
A lot of people never do the thing they were born to do because they got comfortable and didn't want to feel to pain of change and loss.
I have wanted to run back into the past so many times.
I learned this lesson as a freshman in college. There were some that the pain of what they had lost was greater than the joy of what they hoped to attain, and they quit, they gave up, they ran back. Some of them regrouped, learned their lesson, and moved on to their great adventure, some of them never recovered.
Look, you are going to be homesick, and sooner or later what you are homesick for will no longer even exist.
Count the cost. 
Decide whether the new path is worth the sacrifice of the known path. 
Realize it and grow toward acceptance when "home" simply no longer exists. 
Allow yourself to love "now" while cherishing the joys of "then."
And do not despise "now" simply because it cannot be "then."