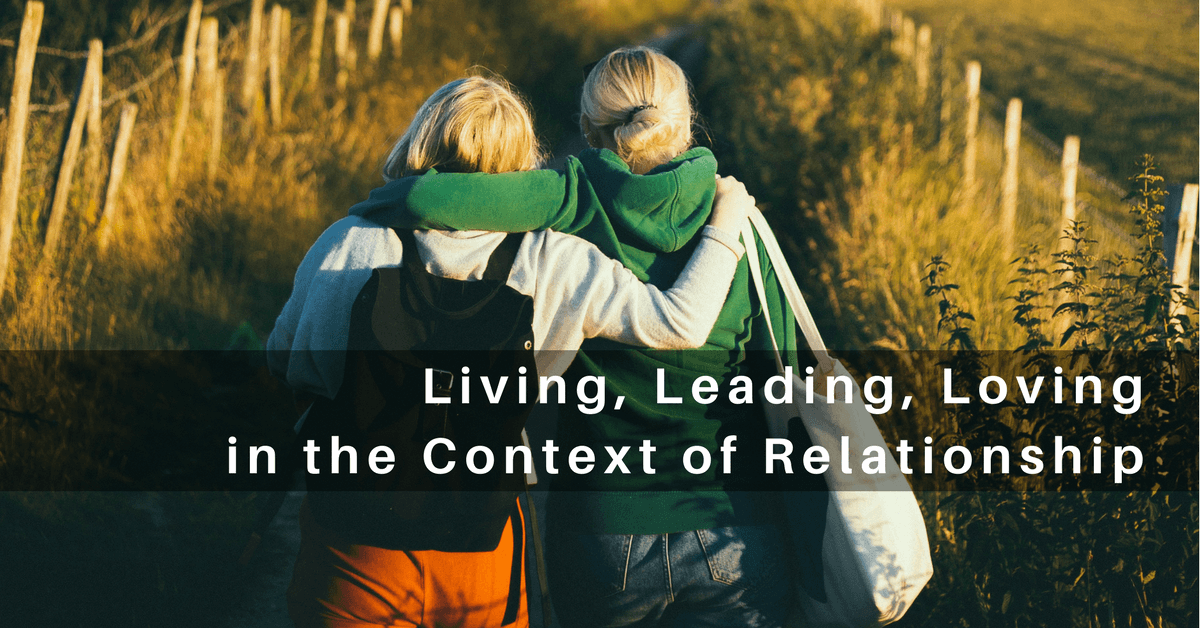 Podcast: Play in new window | Download
Life is lived in the context of our relationships, and ministry and leadership take place in the context of our relationships. We must make people our priority in living, leading, and loving. Relationships require a great investment with every party having something to give and something to gain in the relationship.
Continue reading for the episode notes.
Life is Lived and Ministry is Accomplished in the Context of Relationships
We've come off of about 4 weeks of insanity, and we have grandkids that got in last night. We don't have time for that… we can't NOT have time for that… priority. Relationships and the nurturing of those relationships are a priority in our lives. Relationships are an absolute key element of life. Everything is based upon and hinged upon relationships. We calibrate our relationships and nurture them by giving them priority in the way we live our lives.
When it comes to every relationship in our lives, be it our relationship with God, with family, with friends, etc. we have to keep them calibrated because from those relationships effectiveness, and joy will flow.
I've often said ministry is always accomplished in the context of a relationship. I say that because people are the point of leadership and ministry. We are in the business of transformation, and transformation happens in people. We can focus on systems, task outcomes, and any other facet of leadership, but if the end result is not the positive transformation of people's lives, then really, what's the point? This is one of my core values and this realization keeps me on track in everything we do.
Having experienced much loss in our lives, we've come to also realize that not only does leadership and ministry always happen in the context of relationships, but life itself is lived in the context of relationships. Whether it be our relationship with God or loved ones, joy comes from interaction and sharing life with others. Sometimes our circumstances are such that we are alone, or at least feel alone in life. We can still have joy in the quiet times of life because God is with us.
The call of Christ is to live our as His ambassadors (2 Corinthians 5, as expounded upon later in this episode). We are ministers of reconciliation, meaning that our calling is to be ambassadors brining people into relationship with God. Our lives are so anchored in relationships.
In this episode (article) we discuss the importance of relationships, not only as something to bring us joy, but also as a ministry/leadership calling upon our lives.
The Difficulty of Relationships [6:08]
Taking time for relationships is vital.
Arranging our lives to accommodate relationships
Committing ourselves to the important relationships in our lives

Our relationship with God
Our relationship with our spouse
Our relationship with our family
Our relationship with others
Our calling includes calibrating and nurturing our relationships on every one of these levels.
Sometimes it is hard to engage in relationships
We may be an introvert (Like me… but you can learn!)
We may have experienced difficulties that are a hinderance to our formation of relationships (Our Story)
What do you do when life is too busy, which is the biggest obstacle. (We have to be intentional and make time for what is truly important.)
One of the things that is difficult for me is the expectation that I will invest in a small group that drains me rather than fills me… I don't have time for that. (But I have been in LIFE-Giving groups, so it is possible, but we have to stay focused on the possibilities.)

Life is lived in the context of relationships. What does that mean exactly?
The Apostle Paul wrote 2 books to the Corinthians. The second of those books is, of course, 2 Corinthians. Both of the Corinthian letters were written to the Church in a very secular society. I think these two New Testament books are so powerful because the Apostle Paul knew that he had to go back to basics and sum up many of the principles of Christianity.
I am going to be so bold as to say that 2 Corinthians 5 is a summation of the purpose of the entirety of the Gospel and the entirety of the culmination of God's plan.
Are you ready for it?
"Therefore, if anyone is in Christ, he is a new creation. The old has passed away; behold the new has come. All this is from God, who through Christ RECONCILED us to himself and gave us the MINISTRY OF RECONCILIATION; that is, in Christ God was RECONCILING to world to himself, not counting their trespasses against them, and entrusting to us the MESSAGE OF RECONCILIATION. Therefore, we are AMBASSADORS for Christ, God making his appeal through us. We implore you on behalf of Christ, be RECONCILED to God. For OUR sake he made him to be sin who knew no sin, so that in him we might become the righteousness of God." (2 Corinthians 5.17-21 ESV)
Reconcile (defined)- to win over, to settle, to bring into agreement or harmony, to make compatible, etc.
God's plan was to be in relationship with us and God's plan for our lives is for us to be ambassadors of reconciliation.
Donna served in two different embassies under U.S. Ambassadors. The role of a U.S. Ambassador assigned to a foreign country is to represent the President of the United States. This is why it is a presidential appointment. As Christ's ambassadors, our calling is not representing our own ideas, but representing God's ideas. The role and work of an ambassador is relational, it is the establishment of relationship with foreign powers. Our role as Christ's ambassadors is to establish relationship in our context as relational representatives of Jesus Christ.
Context (defined)—the set of circumstances or facts that surround a particular event, situation, etc.
In writing or speaking, it is the parts of a written or spoken statement that precede or follow a specific word or passage, usually influencing its meaning or effect.
When we take a word or passage "out of context" we isolate the word or thought from the other order surrounding it that change its meaning.
So, a word is defined, not only by the dictionary, but by the context in which it is found. This is where meaning comes from.
For example, the word "run" has 645 definitions. The exact meaning of the word "run" cannot be discerned with out the context.
Run the water. Run down an answer. Run to the window. Run to the store. Run in a race. Run on sentence. To run is to go quickly. To run is to move with haste To run is to depart quickly. To run is to be a candidate. When fish run they migrate upstream. To run is to ply between places. Etc.
In dealing with scripture, you cannot take a verse out of context and place it in another context, thus changing the intent, effect, and meaning.
When I say ministry is always done in the context of  relationships, I am saying that ministry is meaningful only as it affects and transforms people.
[shareable]When I say ministry is always done in the context of  relationships, I am saying that ministry is meaningful only as it affects and transforms people.[/shareable]
When I say "life is lived in the context of our relationships," I am saying life only has meaning in accordance with how it fits in with God (our primary relationship) and the people in our lives.
When your context changes your meaning changes.
That doesn't mean your gifts change. But the application of your gifts will change.
You may be a daughter, a mother, a grandmother, a friend. The relational context of each of those identities and roles will inform the way you love and lead, but you are the same person with the same gifts. It is just that those gifts are applied differently in accordance with the context.
Look at the various roles in our lives… they all revolve around relationships.
When tasks transcend relationships, the tasks are worthless.
We cannot lose touch with our "why", and our "why" always involves relationships.
Think of it using words and speech as an example. My surroundings, present circumstances, culture, time, place, etc. present a context for what I'm saying. The meaning of my life is defined according to the people in my life.
You can't come to a church and not engage. Even if you are broken, you will find healing through connection, relationship.
Everyone has something to give and everyone has something to gain.
If you are a natural introvert… you still don't get a pass. One of the greatest principles of relationship is the awareness that everyone has something to give in a relationship and everyone has something to gain. You can be both a giver and a receiver in every relationship in your life — and you should strive to be both a giver and a receiver of the love of others.
[shareable]Everyone has something to give and something to gain in a relationship.[/shareable]
The importance of relationships in fulfilling the vision.
When something stirs in us the only way we can move it forward is if we connect the vision with and through people. It is not using them, but it is engaging them with THEIR passions. If I have a passion for something then I believe God has given a lot of other people a passion for it. A big part of leading is finding other people who have like passions and working together.
[shareable]A big part of leading is finding other people who have like passions and working together. [/shareable]
Sometimes people don't recognize their passion until they see it, until it is connected in them. It is our job to help those we LOVE and LEAD discover their passions. 
It is never about me or what I need, as a leader, it is about transformation and LEADING and LIFTING people into their purpose. 
The difference in being just a person on our own journey and being a leader is we are called to connect and inspire people to their passions.
Being a leader is a wonderful thing because it is all about people.
It is about putting the processes and systems in place to facilitate the growth of people.
I think sometimes we focus on what we are doing rather than upon who we are seeing transformed and growing.
If you see yourself as an agent of transformation you will begin to see the world differently and your interactions with people differently.
Everyone has something to give and everyone has something to gain.
We are called to multiply. Whatever gifts you've been given should be multiplied in someone else.
Whatever service you are engaged in you have to raise up a successor.
In some things we are to learn and lean.
In other things we are to give and impart.
Now, this CANNOT simply be a process or a system, it has to be a passion. It has to be …
… natural: it simply happens in the context of a relationship
… prophetic: We have to posture ourself in such a ways as to expect the unexpected. To realize that things are happening in the context of our relationships (growth) that we do not see and understand, but a dynamic is always at work.
Calibration Points… Calibrating Our Lives and Lifting Those We Love and Lead. [29:58] 
How do we calibrate ourselves (posture) to ENLIST / INFLUENCE / INCLUDE
What is your posture in relationships? Are you a life sucker or a life giver? Everyone needs relationships that give them life, but a leader is going to be in more giving relationships that receiving relationships… that is called MATURITY! Evaluate your give/take quotient. Are you needy? Do you take more than you give? What is the deficit, and what is your path to growing up and turning that around?
(For the introverts) Walk slowly through the room. Take the time to slow down and make an investment. Decide ahead of time how you plan to engage. Make a plan for your next public engagement. Have your first few lines already in your head.
Consider your transformational calling. What is it? What are the gifts resident in you that will help others.
Consider the opportunities in your life to make a difference and seize them. "Relational" means that we make connect out of love. Intentionality should be watching for the people coming into your life and realize there is a reason for it. If God brings someone into your life you don't need a formal structure to make a difference.
Don't try to insert yourself in someone's life to be transformational. Let the transformation flow in the context of living and life.
This is why the Church is challenged in making disciples. It is because we see growing disciples as something we are supposed to be doing rather than it being life on life. We simply are not going to make disciples until we live life together.
Finally… 
Life is lived in the context of relationship… ministry is done in the context of relationships… so how are your relationships?
---
Help us bring transformation and life calibration to leaders around the world. If you will take a moment to subscribe in Apple Podcasts and rate and review the Calibrate Life podcast, it will help us speak into the lives of greater numbers of people. You can partner with us in this simple way — and it is free!