Podcast: Play in new window | Download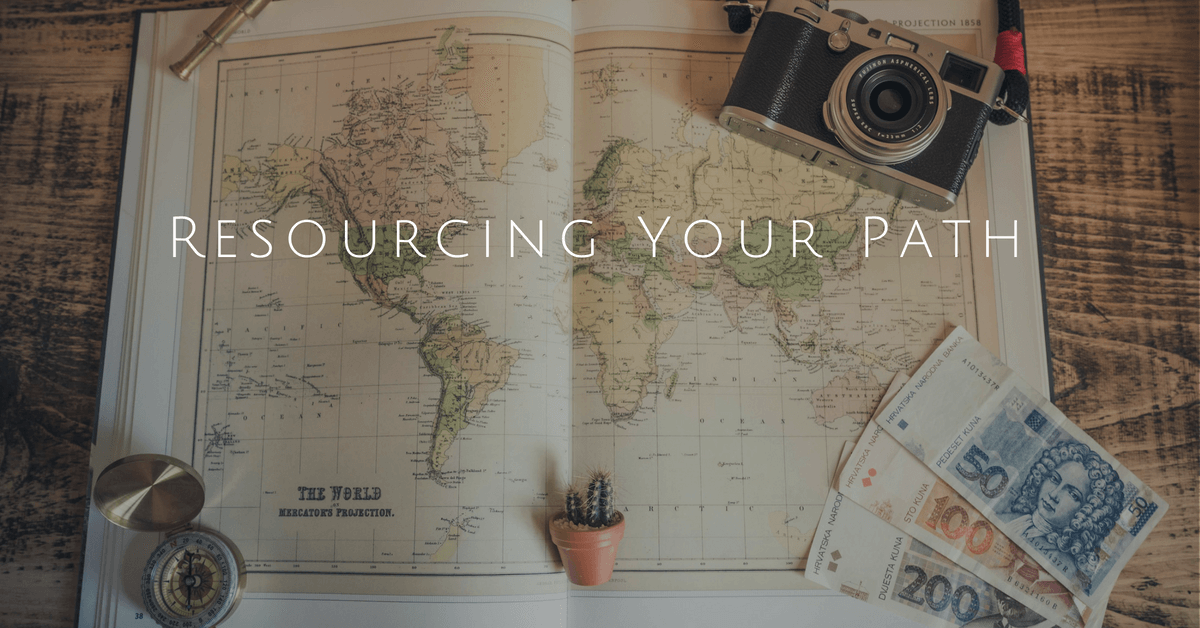 Spiritually, our primary resource is the empowerment of the Holy Spirit. Physically and temporally our resources comes through relationships, finances, and other temporal resources. When we "see something" in our spirits, a vision, a hope, something we feel is God's direction for our lives, then we've got to move it from being something we've envisioned and hoped for into something that is actually happening. We've got to have physical resources to finance our objectives. In this episode David and Donna discuss a mindset of preparation and coaching those we love and lead in resourcing their paths and calling.

Continue Reading for the Episode Notes…
Resourcing Your Path
One of the six Calibrate360 calibration points is resources. Our mission / God's mission has to be resourced. Every vision must be resourced. Every passion you pursue must be resourced and financed. 
Spiritually, we find our resource in the empowerment of the Holy Spirit. This is the first and most important resource. We "see something" in our spirits, a vision, a hope, something we feel is God's direction for our lives, then we've got to move it from being something we've envisioned and hoped for into something that is actually happening. Spiritual empowerment is still the most essential, but we've got to also have physical resources to finance our objectives. When dealing with spiritual realities our greatest need is for spiritual resource; when dealing with physical realities, we need physical resource. 
Our greatest comfort in recognizing the need for physical resources and finances is Matthew 6, assuring us God knows what we need. In fact, the message of Matthew 6 is to focus on what is important to God and he will provide for the physical resources he knows we need. 
This is something that challenges us a few times a day, and something we all face in both leadership and in coaching and lifting leaders regularly. In episode 34 we discussed resourcing the vision, so we've talked about this before from a different perspective, but as we continue to grow in this through day to day experience, we keep learning, growing, and realizing that resourcing is a part of the divine/human partnership. 
How do we resource the vision?
How do we coach and lift those we love and lead in their attitudes toward resourcing?
First, as Christ following leaders, we depend upon divine insights and inspiration to resource the heartbeat of God for our lives.
In my reading last week I came to this passage of scripture and thoughts began to explode. 
"Jesus said to them, "Children, do you have any fish?" They answered him, "No." He said to them, "Cast the net on the right side of the boat, and you will find some." So they cast it, and now they were not able to haul it in, because of the quantity of fish." John 21.5-6 ESV
Divine insight is the key to having the resources to practically fulfill what's in our hearts. If you know where to invest, where to fish, where to sow, in the favor of God, then resources are never a problem. Divine inspiration and insight can come through revelation, information, preparation, study, and in many other ways, but I am counting upon the wisdom of God to lead me to the right sources of income. This is both spiritual and practical calibration. 
I did a podcast interview on John Pappas' podcast, Inference Swap, a couple of weeks ago. He asked me a question that I've continued to think a lot about. Talking about ministry and church, he asked me a question, "If you had a billion dollars to invest in starting a church, what would you do, how would you go about it?"
My answer, "I don't need the billion dollars, because what's in my heart to do doesn't cost anything." Yes, we have to resource, but I realized through that question, that in the most important things money is not the obstacle. We have to resource and finance a vision, no doubt, but money is not usually the problem, it seems if we have inspiration from the Presence of God and our passions are ignited, avenues for resources divinely develop. 
I've found a key to joyful living in the realization that resources help me accomplish what is already in my heart. If something isn't in my heart, if I am not passionate about it in the right ways, then the resourcing will not help. If we keep our eyes on the mission, stay rooted in our values, remember what it is we are trying to do, paths for the empowerment through resourcing will come. 
I've observed in the church world for many years. I will say that finances are never the primary problem. The lack of finances or resources are (I'll say almost) almost always caused by other problems. Lack of focus, preparation, training, mission, passion, etc. 
Sometimes people want a solution rather than a transformational life adjustment. Its the difference between giving someone a fish or giving them a fishing pole and teaching them how to use it. The immediacy of a problem leads people to believe that if someone would resource them the problem would be solved. Not true! 
Did Jesus move the fish to that area or were they there and he knew it? Doesn't matter. Surpasses our understanding. Information not revealed. This passage can be interpreted in a lot of ways, in this case, we are thinking of the power of divine intervention, giving wisdom and insights as to where to find the resources and how to retrieve them.
Second, we must bridge the spiritual and the physical realities, starting with spiritual empowerment and moving toward temporal resourcing.
And another resourcing story comes to mind:
"Does your teacher pay taxes"… "Peter said, "Of course." But as soon as they were in the house, Jesus confronted him. "Simon, what do you think? When a king levies taxes, who pays—his children or his subjects?" He answered, "His subjects." Jesus said, "Then the children get off free, right? But so we don't upset them needlessly, go down to the lake, cast a hook, and pull in the first fish that bites. Open its mouth and you'll find a coin. Take it and give it to the tax men. It will be enough for both of us."" Matthew 17.25-27 MSG
They caught a fish and the money for the tax bill was in the fish. Okay, so, was there a fish swimming around with a coin in it, and Jesus had divine insight into exactly where the fish was? Or, did God put the money into the fish, perhaps a fisherman or traveler accidentally dropped a coin off a boat and a fish swallowed it. Part of God's plan? Then, Jesus knew exactly where the fish was. Surpasses our understanding. Information not revealed. 
In both the net casting story and the money in the fish story, the disciples were supernaturally resourced. 
I can see the duality of realms, the spiritual (unseen) realm and the physical (seen) realm. 
It is a hinderance to the mission when we focus on the temporal while lacking focus on the spiritual.

 

It is a hindrance to the mission when we do not take God seriously enough. The interface (resources) between obligation and capitulation is, "we will pay the taxes we are not obligated to pay because it is a temporal requirement and we do not want to upset them needlessly… no big deal."
The solution for God not moving in and through my life, then, is taking God seriously, at his word, and focusing my life on what God has said. 
(Right or wrong?)
Third, resourcing comes after we take the step.
Yes, as mentioned in previous episodes, if you are going to jump off a ship you should first build a raft, but as our journey progresses it requires more faith. It seems God provides when there is a need and not prior to a need. Following Christ is about trust. It just is. 
Some logical progressions: 
The disciples chose to follow Jesus, they left their jobs, and were living by faith.

 

Thus, we must position ourselves to a dependency upon God before we can see the revelation of his glory and experience his provision and transformation.

 

A miracle is necessitated by the need for a miracle. When we need a miracle things are beyond our ability, wisdom, training, or insight to solve them. Something is going wrong when we need a miracle. The miracle is a supernatural righting of something that is wrong. I would rather not NEED a miracle, but when I need one, I really need one.
Then, if I want to live by faith, throw all in, depend upon God to direct resourcing, I must position myself to depend upon God, then I have to walk into that dependency and position myself for the miracle.

 

I have to LISTEN and take direction from God. Whether I rely upon things I have learned in my studies, from books, or from other leaders, I must depend upon God to reveal to me the paths I must follow, the actions I must take.
It is the divine prerogative to formulate, prompt, design, inform, inspire, and give insight. It is out the (my) human prerogative to obey, follow, execute, and establish actions, practices, and habits demonstrating the HEART and HUMILITY of Christ. 
Finally…
Resourcing is weighted toward the DIVINE side because RESOURCES are a supernatural empowerment. Resources are created. Resources are revealed…
Resources are provided
Resources are created
Resources are revealed
And further…
Resources are empowerment for the fulfillment of the will of God
Resources fuel the possibilities of the unseen
""If you decide for God, living a life of God-worship, it follows that you don't fuss about what's on the table at mealtimes or whether the clothes in your closet are in fashion. There is far more to your life than the food you put in your stomach, more to your outer appearance than the clothes you hang on your body. Look at the birds, free and unfettered, not tied down to a job description, careless in the care of God. And you count far more to him than birds." Matthew 6.25-26 MSG
God promises supernatural wisdom for those who ask, so God, grant us the wisdom to obtain the resources we need to fulfill your calling.