Podcast: Play in new window | Download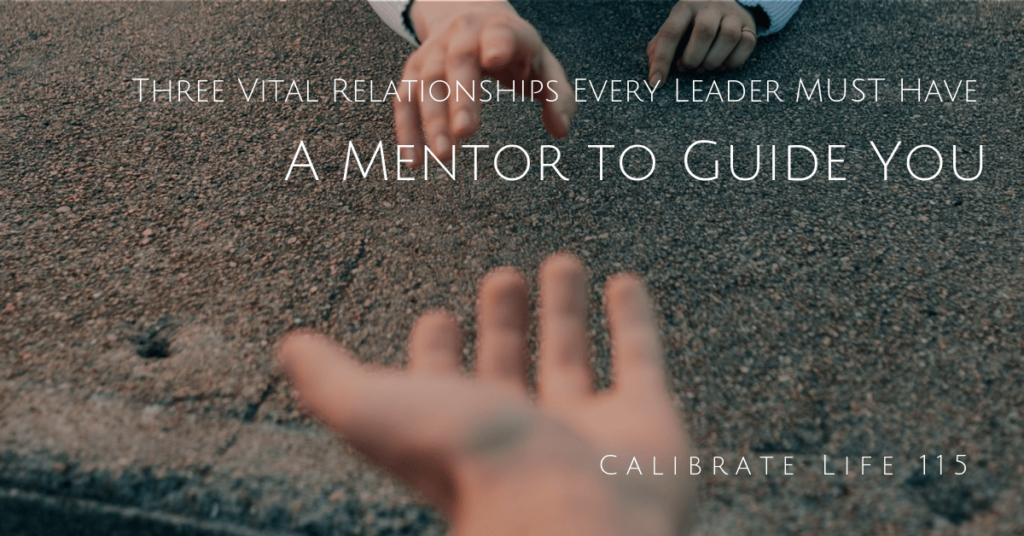 Every leader must have three vital relationships to succeed. We need a "Paul," someone to mentor us. We need a "Barnabas," someone to walk with us in honesty as a friend and accountability partner. We must find "Timothies," those in whom we invest as a mentor and a leader. In this episode we discuss the first of those relationships: Finding and being a mentor to those we are called to love and lift.


Continue Reading for the Article / Episode notes…
Three Vital Relationships Every Leader Must Have: The Mentor
Editorial Note: The podcast was recorded in a conversational format and most of the vital and practical content today is in the audio.
Every spiritual leader must have three different and vital relationships in their lives: a "Paul," a "Barnabas," and a "Timothy." Taken from the inter-relational dynamics of three New Testament leaders, Paul, Barnabas, and Timothy. All of us need to reeach up for a mentor, reach out for a friend and accountability partner, and reach back to encourage those a few steps behind us on in the great adventure or in the life journey.
Paul and Timothy's relationship represents the ideal biblical model of leadership mentoring with a father-like figure teaching and pouring into a younger man. Second Timothy [1:13]-14 says, "What you (Timothy) heard from me (Paul), keep as the pattern of sound teaching, with faith and love in Christ Jesus. Guard the good deposit that was entrusted to you—guard it with the help of the Holy Spirit who lives in us" (NIV). Not only do young leaders need a Paul speaking into their lives, but every leader needs a Paul-like relationship providing mentoring, coaching, and insight into areas in which they need to grow. Even the strongest of leaders have blind spots and/or areas they need to develop.
Not every Paul/Timothy relationship is about spiritual fathering, many Paul/Timothy relationships are simply mentoring or coaching relationships where a more experienced person (in the area being addressed) is speaking into the life of the one wanting to learn. Some Paul/Timothy relationships are for a short season and focused upon growth in a narrow field, some are long-distance relationships, some are mentoring relationships, and some are mother/daughter or father/son type relationships. The key in a Paul/Timothy relationship is one person sees strength in another and seeks out that strength for application in his or her own life. All of us have something to learn and we should actively seek out relationships with people who can help us lift to the next level, especially when it would be difficult for us to rise to that next level without assistance.
Discussion Questions
Who have been the most influential people in your life?
How did they influence your life?
Who is your "Paul" right now?
If you are lacking a Paul relationship, how might you find a Paul?
What if You Cannot Find a Mentor?
Look for someone just a few steps ahead of you and not necessarily someone 40 steps ahead of you.
Look for someone who you want to speak into just one area of your life and not your entire scope and experience.
Embrace virtual mentors: people who write, blog, podcast. Face to face is better, but listening and learning is valuable.
Be alert for divine appointments. Many of my mentors were just people coming in and out of my life, giving me a few minutes, who had something profound to say.
Consider people who are already in your world who have lived well and had powerful experiences. They may feel they have nothing to share, but if you mine their experience, you may find them to be a mentor.
You probably will not find a universal mentor, if you do you are blessed, but you can find a chorus of mentors to speak into different areas of your life while you watch and read them from afar.
What to Look for in a Mentor
Do I trust this person
Does this person trust me
Do our personalities mesh
Do they communicate in a way that I can understand
Do I consider this person to be successful in the way I measure success
Does this person have attributes I want to emulate
Do I have anything in common with this person
Do we share common values, goals, and beliefs
Does God seem to be directing this connection
Do I like this person
Does this person care about me
Can this relationship be conducted with appropriateness
Will this person be honest with me
Does this person believe in my potential
Can this person help me define my dream
Can this person give me guidance in developing a plan to turn my dream into reality
Will this person be open to learning something from me
Will this person stay on my agenda and not have his or her own agenda
What to Look for in a Mentee
Do you believe in this person
Do you trust them
Do you like this person and find it easy to spend time with them
Do you/could you see them as a son or daughter in the faith
Are they teachable
Are they "hungry"
Do they seem to respect or admire you
Are they self-motivated
Are they comfortable around you
Do you have something to impart to them
Are they worthy of your investment
Does God seem to be directing the formation of this relationship
---
To comment on this post, join our facebook page at this link and comment there. https://www.facebook.com/Calibrate360