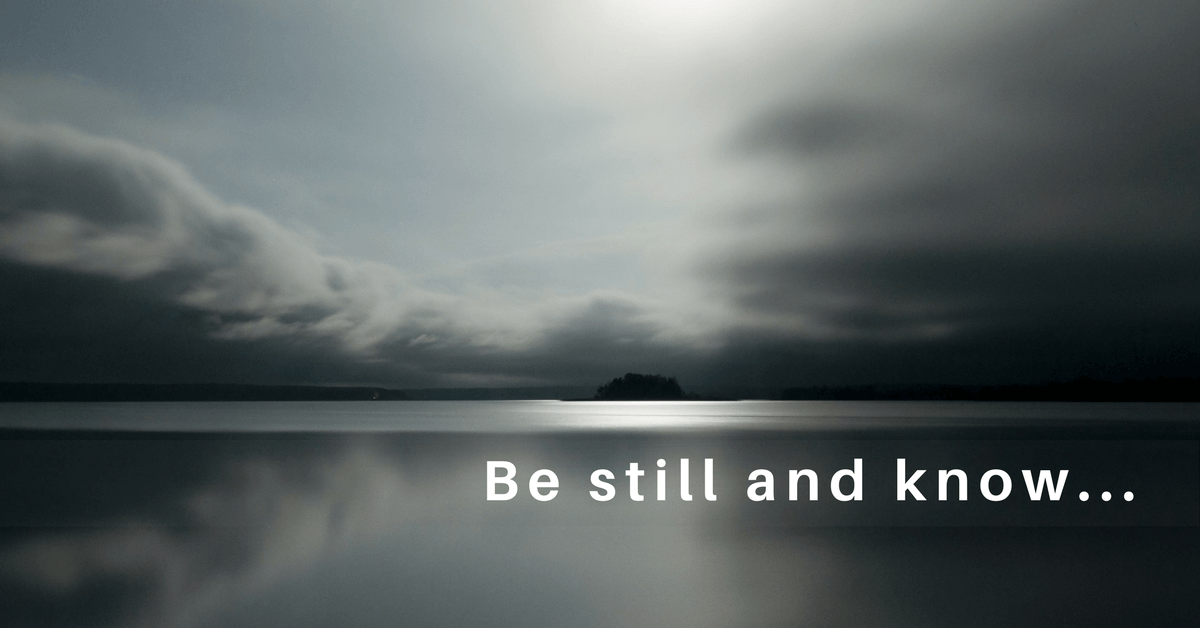 Podcast: Play in new window | Download
There is a time to take action and a time to wait, to be still and know God is God. Last week we talked about the necessity of being action takers, this week we talk about the equally important practice of being still, trusting, and allowing God to do those things that are his part, the things only He can do. 
Be Still and Know
This past Sunday we were privileged to minister at a very effective church in Southern Indiana. Grace Tabernacle in Harrison County, Indiana. This church has witnessed the miracle of many who have been addicted to drugs and been in jail finding Christ, deliverance, and a new transformed life. The church is full of life and hope and they continue to see transformation in divested lives.
I've had two thoughts since spending the weekend there. First, what if that church wasn't there? It fulfills such a vital role in the lives of the people who have experienced transformation and there are few, if any, other option. Second, I was reminded of the divine partnership we have with God. There are some things only He can do, and despite our best efforts we are reliant upon God for the most important pieces.
Last week we talked about taking action. We talked about how our dreams and vision will never become reality unless they get "legs" through our actions, practices, and habits. One of our biggest shortcomings is inactivity. Having a desire, direction, or dream, but simply not taking action. Sometimes we wallow in inactivity, even citing faith in God as the reason we are doing nothing, and we get no forward movement. This week I am once again reminded that while taking action is still very important, there are those times when we come to a place where no action is possible but to be still and stand still and place our hope in God.
Actually, this is the faith zone we calibrate toward. We really do want to follow God's heart in attempting the things He's placed in our hearts that are so big that unless he intervenes we will utterly fail.
The people we watched engage the presence of God this weekend had come to a place of desperation where they could not overcome their addiction. They experienced the power of God in their lives that brought them out of their nightmare. While I know it is a daily walk, I know many of them know they are only free because of God's help.
It made us think deeply about those things upon which we must simply take action, and those things for which we have no alternative but to simply put our trust in God and await his action.
STAND Still and SEE
Moses was the deliver to the Israelites held in slavery in Egypt for 400 years. According to God's direction (Book of Exodus), Moses led them out of Egypt and back to their own land where they could live free and establish a nation. An iconic moment of their journey is when these million freed slaves came to the Red Sea. The Egyptians had a change of heart and mind and decided to not let them go, and a well equipped army went out to either kill them or return them to slavery.
With an army at their backs and the sea in front of them, they had no options.
God's word to Moses and the people was, "Fear not, stand still, and see the salvation of the Lord." (Exodus 14)
God commanded Moses to stretch out his rod over the sea, and the waters parted. The people crossed the sea on dry ground and the Egyptian army drowned.
As we discussed last week, I am firm in my conviction that we have to take action, we must establish habits and practices to get forward movement in anything. Along with that, we must never forget that it is not unusual to come to a situation where we have no options but to stand still and watch God move on our behalf.
Yes, Moses did have to stretch out the rod, but all of the power and all of the resource exerted in that situation was divine and sovereign.
In our journey, I know where we are going. We have a vision. We've been in the Presence of God, a passion has arisen in us, a path has emerged, and practices are resulting. We are moving toward a goal of a vision we see. Some of our forward movement will be accomplished in the realm of the SEEN and some of our forward movement will be accomplished in the realm of the UNSEEN.
It's the divine/human partnership.
It's not simply, "You do your part and God will do his." It's more than that. It is an understanding of the benevolent tension between intentional actions of obedience and standing still and seeing God do what only God can do.
BE Still and KNOW
Psalm 46.10 (ESV) says, "Be still, and know that I am God. I will be exalted among the nations, I will be exalted in the earth!"
In our journey we move forward in both obedient action and the confident expectation that God will lend the miraculous to his directives for our lives.
The implication of Psalm 46 is that God will have the last word. He will reveal himself as God. We get worked up trying to help God be God. I do believe we are to be a standard of righteousness in the world, to be a blessing to this world, but we cannot forget, we must KNOW that He is God. He will be exalted in the nations and in the earth.
It reminds me of the message to the persecuted church in Smyrna (Revelation 2). Jesus reveals himself to this persecuted church as "the first and the last." Jesus is reminding His church that he will have the last word and they can live confidently, and be still, and know that He is God.
We are to be action takers, but there are some things we have no control over. It's not that we will take control of everything we can, and then leave the things we can do nothing about to God. No, actually, we are to live in partnership with God, seeking his resource and empowerment in everything in our lives, but being content to stand still to see his divine intervention, and to BE still that we may have the privilege of SEEING the transformational power of God at work in our lives.
Calibration Tools… Calibrating Our Lives and Lifting Those we Love and Lead [22:00]
What is your bias? Are you more an "action taker" or a "wait and see what God does" leader? What adjustment does your faith life require in your perspective between "waiting" and "taking action"?
Has your faith developed to the point that you are comfortable with those times when your only option is "standing still" and trusting in God's divine activity? As the powerful leader your probably are, what are some steps you can take in your leadership to proactively position yourself to embrace those times when you simply must depend upon God to act? Are you willing to risk putting yourself in that position? Why or why not? What attitudes, perspectives, or transformation needs to take place in your life to raise your comfort level with such?
We know taking action is vital, but waiting, and trusting God is vital as well. How can you position yourself in your walk with God so you can embrace the tension between the divine/human partnership, and not only embrace it, but find joy in that partnership.
Finally…
Some things are a matter of action plans, goals, and divine strategies. We are in partnership with the Presence of God in taking direction and moving forward. Other things are completely out of our realm of influence, in fact, when we live by faith, an increasing percentage of things are completely outside our realm of influence.
When an army is at your back, and the sea is blocking your way, its time to say, "Okay God, this is your path, I'm going to stand firm and still and I'm going to watch you pull this off."