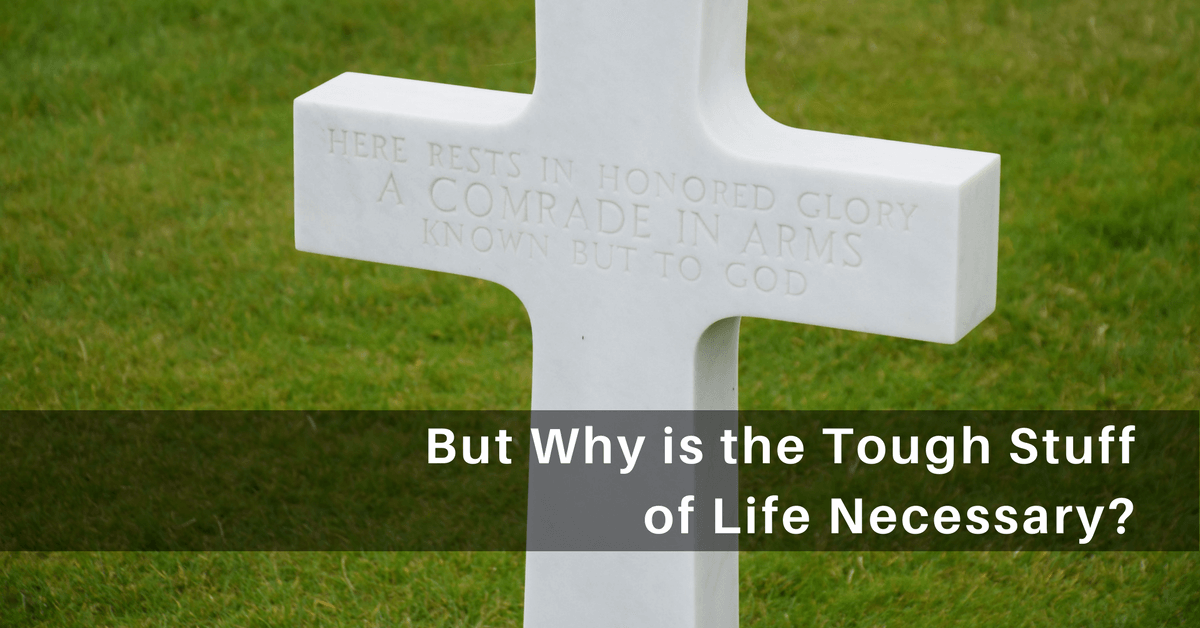 Podcast: Play in new window | Download
Why do hard things happen to good and faithful people? We know life has a lot of tough stuff, but why is it necessary? As hard as it may be, we need to embrace the difficult things as important and necessary in gaining the best things life has to offer. The tough stuff convinces us to look beyond ourselves and to discover success and the true meaning of life itself. Every great adventure brings with it a lot of hard things, that's what makes it possible to experience the great adventure.
Why is the Tough Stuff of Life Necessary?
On our great adventure, as we've come to call it, there are already difficulties we are navigating. Anticipation of hard things to come sometimes rob us of sleep. I sometimes lay awake and listen to what God might be saying to me. I sometimes have a feeling of being mocked, that God's plan of moving me out of my position was just to get me to move on and he was sending me down a dead-end just to get rid of me. I've had that feeling before at difficult times in my life when I was not sure how things were going to turn out. I have to stay anchored in the faith that God is fulfilling his plan for my life.
Last night my mind ran through all of the difficult and painful things that have happened throughout my life and ministry. I rehearsed those things in my mind because I understand the power of the cross, and we understand that all of those painful things have shaped and prepared us for everything that is ahead. We don't want to go so far as to call bad things good, but we will say that pain has reoriented us to have enough faith to step into some awesome things.
This verse of scripture ran through my mind most of the night, "I have been crucified with Christ. It is no longer I who live, but Christ who lives in me. And the life I now live in the flesh I live by faith in the Son of God, who loved me and gave himself for me." (Galatians [2:20] ESV)
It's the Cross. The difficulties in the life of a Christ follower are our cross. Those difficulties and painful things shape us, they make us, and most importantly they break a little more of our self-will and direct us to the will of God, which is far better than ours once we realize it.
How do we measure life?
The struggle I have with big risks and leaps of faith are the things that will be taken away because of our decision to step into new things.
If our measure of life is our identity, our influence, or our income, then we fear losing those things. If our measure of life success is living the life God has prepared for us, then we have to crucify, or kill, our desires and allow them to be replaced with God desires. If success to me is identity, influence, and income, then I'd better stay where I am, but if success is following God's great adventure, then I have to kill my self-desires before the God-desires can live.
A Lesson from an Old Sage
Paul Davidson was an old man who lived in a little house on our conference center grounds. For most of his 80+ years he had been a pastor, an educator, a missionary, and a Christ follower. He had faithfully lived his life. His wife had died a few years prior to this occasion and he was ready to be finished with this life. On one of my stays on the grounds he had been in the hospital and released. I heard that he was dying from some form of leukemia. I walked up to his little house to visit him.
I knocked on the door and from his bedroom he called out for me to come in. I walked back to his bedroom where he was sitting in a recliner. He motioned and simply said, "Sit down." I sat on the edge of the bed.
He started into a long story without warning. He told me of how he was a missionary in China and was kicked out. He was a missionary in the Philippines and had conflict with the leadership and was kicked out. He told me of difficulties he had when he was a pastor of a church and when he was a professor at Trinity Bible College.
He reviewed every disappointment and hurt in his life and at the conclusion of every story he said, "Its the cross." He told me how when he was younger, and even when he was older that he was stubborn and self-willed. He told me that many of the things he suffered throughout his life were not of his own doing, but many things were a result of his own self-will and combative nature.
He told me the story of how every time something painful happened in his life that it brought his human nature a little more under subjection and released a little more of the God-nature in him. Over the course of his life he came to a place of knowing God and seeing much transformation in his life and in the lives of many around him. He said, "Its the cross."
He then proceeded to read emails from all over the world he had received in just the last 24 hours. The emails spoke of how he had influenced lives and nations. One after the other. He taught me that none of that would have happened had he not experienced the pain and the cross in his life.
I knew in that moment it was not Paul Davidson speaking to me. I knew it was the Spirit of Christ speaking through him. I knew this was a divine appointment and I've never forgotten it.
I've remembered what he taught me about the cross in the most difficult moments of my life. I have chosen to believe that the things happening to me were working something far greater in me than I could imagine. At times that was the only thing keeping me going.
Applying "The Cross" to Our Lives
Last night as I considered these things, I saw myself in that hospital conference room having just been told that I was going to experience the shock of the death of a spouse. As I reviewed that scene I didn't just see if for the pain I felt and was about to experience, I saw myself being scourged and bloodied, it felt as if my flesh was being torn from my body. It was the cross. It was a moment in my life where I had to come to a new level of realizing I was not sufficient for what I was going to live through and in that moment, and in the journey ahead, I had to shift my dependency away from my self-sufficiency to the empowerment and sufficiency of Christ. That is the cross.
I think of the journey of pain and how my tolerance for pain has increased. It's the cross.
When I did not get my way part of me died. It's the cross.
My mind rolled over the disappointments and the sticks to the gut I've faced throughout my life and ministry. Its the cross.
Somehow we are on a life journey of becoming less so that Jesus can become more. It is the cross.
What's the difference between random and pointless pain and the cross? Can I come to believe that nothing in my life is random or pointless? If I live by faith, is anything random or pointless? As I experience the cross, I am COMING to believe that nothing in my life is random or pointless.
I made myself believe that some things were random and pointless. Some things just happened because the earth was spinning and things got knocked over.
I dare to position myself to believe that nothing in my life is random or pointless. 
[shareable]I dare to position myself to believe that nothing in my life is random or pointless. #CalibrateLife[/shareable]
Think of the cross of Christ. A perfect guy, the only begotten Son of God, comes to earth to lead us to God. He makes sick people well, he causes blind people to see, he causes lame people to walk, he even raises a man from the dead. He teaches freedom and liberation from a law of bondage. But those who had a stake in the law hated him. Many did not want to hear what he was saying and they got so angry they brought charges and the perfect guy was severely beaten and crucified.
Random and pointless?
There is the resurrection. Without a crucifixion there cannot be a resurrection.
Jesus himself taught this when he himself said, "except a grain of is broken and falls to the ground it cannot create new life."
Transformation, the old passing away and the new coming is a cycle of death and life.
Random and pointless?
What if we dare to believe that nothing in our lives is random and pointless?
What about the really bad stuff? I want to believe the really bad stuff was random and pointless because if it wasn't, then I am angry at God. If some bad stuff just happened I can live with it, but if it was part of God's plan then that hacks me off.
The words, "it was for a reason." Those words haunt me. I don't want some things to be for a reason. I want some things to simply be an injustice that should have never happened.
I do not yet understand, I do not think I will ever understand, but if I can refocus on the cross… I know the cross was not random and pointless.
In everything give thanks, for this is the will of God in Christ Jesus concerning you. "Everything" isn't the will of God, giving thanks is the will of God.
In the book of Philippians Paul writes about "those things which have happened to me have served for the furtherance of the gospel." Stuff happens. Sometimes my mind just will not wrap itself around things that happen. But I can consider the outcomes of the things that happen as the cross. They are things that push the barriers of my human nature down and allow the God-nature to rise up within me.
The things that happened to me teach me of the limits of my ability and in the overcoming I learn of the infinite possibilities for my life in Christ. 
I choose to believe that nothing is random or pointless. I live by faith, not by sight. I do not live by my understanding, but with the peace that goes beyond my understanding.
"Trust in the Lord with all your heart, and do not lean on your own understanding." Proverbs 3:5 ESV
There are a lot of verses of scripture that tell us that wisdom and understanding are good and to be desired. There does come a time when we have to trust in God and not our understanding.
I am crucified with Christ. I identify with the necessity to lose before I gain. I identify with the necessity to die before I can live. I identify with the necessity to to come to the end of myself that the glory of God can be revealed in me and through me, and when the glory of God is revealed it is the revelation that causes transformation.
I have grown so much over the past 5 years. The scourging and the crucifixion I associate with the past five years has increased my tolerance for pain.
My mind, even as I write, is searching for the "why." Instead of searching for the "why" I need to search for the "what."
Calibration Tools… Calibrating our Lives and Lifting Those We Love and Lead [26:19]
The cross…
It causes old things to pass away and new things to come forth.
It diminishes my dependence on the human nature and focuses me on the God-nature.
It redirects my attention from my plans and path to God's plan and path.
It gives me the confidence to believe that life follows death and resurrection follows crucifixion.
It gives me the courage to live by faith, and to see life to be full of potential and possibilities.
Finally…
Our great adventures can be as painful as they are exciting. Those things past have taught me how to live in the God-nature rather than self nature. I am having doubts. I don't want to experience pain, but the work of the cross in our lives is the put the old ways to death so that we can experience the awesome life and joy of the new ways.
That verse in Galatians [2:20] impacts me deeply. "I am crucified with Christ, nevertheless I live… ." I have experienced death in my self, parts of me died and are dying, but other parts are being resurrected and re-born. I live!
"…yet not I, but Christ who lives in me, and the life I now live in the flesh I live by faith in the Son of God, who loved me and gave himself for me."
I live by faith. I live by the faith that the cross will lead to life. I live by faith that my life is not random or pointless, but I am on a journey to good things. Things prepared for me by God. The crosses I encounter do the work in my life to get me there.
As Paul said… I will glory in the cross of Christ.
---
Hey, for a limited time, we would love to give you a 12 page eBook with some pointers, tips, and resources that will help you calibrate your accountability, and very importantly, give you TOOLS to lift those you love and lead in the area of life and leadership accountability.
When you subscribe to our Weekly Resource Update we will send you the pdf ebook via your email. It is designed to work nicely with iBook or other PDF readers.
Those already subscribed to the Resource Update will, of course, be able to download the Accountability eBook via the Resource Update, just look for the link in the update.
Yes, sign me up and send
me the eBook!