Podcast: Play in new window | Download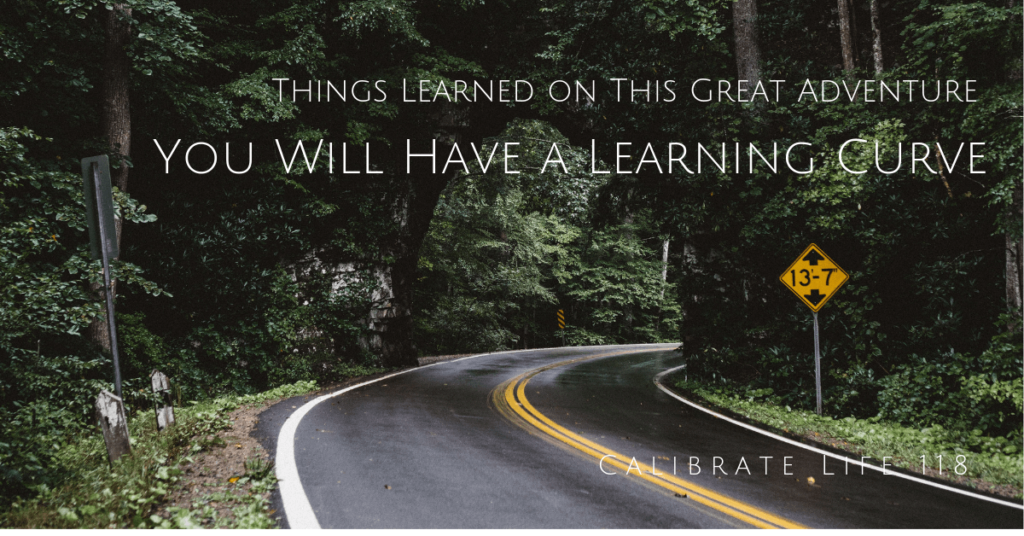 Every great adventure has a huge learning curve. Be ready to take it on, don't be intimidated by it, because it's only going to make you grow and make you better. In this episode of Calibrate Life, we discuss lessons we are learning on our great life adventure.


Continue reading for the article and episode notes…
The Great Adventure: You Will Have a Learning Curve
(This is a podcast, these are our notes, if you want the full essence of the conversation, you will need to listen to the podcast.)
I would like to find a podcast where someone is living the same life as me, but they are a few years further down the road than we are. There are a lot of people like that out there, and I look to some of them as a "Paul" (referencing episode 115), or a mentor to me. If anyone knows of such a podcast let us know. That is what we want this podcast to be.
This podcast is about calibrating your life, aligning and strengthening all the pieces so that you can be more effective in your God-purpose and calling. This podcast is becoming more and more about the great adventure of life and leadership.
You don't need to calibrate your life unless you are engaging a great adventure, you can just keep doing what you are doing without changing anything. Our intent must not be to keep feeding ourselves, to keep feathering our nest. We want to calibrate and improve our lives… for what? Getting better, training, getting stronger is for the purpose of moving forward. You don't train for the sake of training, it is about succeeding at the great adventure we pursue.
Our travel and work schedules have been so intense lately that this podcast is becoming increasingly difficult to pull off. This emboldens us to speak a little more deeply from the heart, to just let it be a natural overflow of the pursuit of our great adventure.
So, today, we've taken a step back to look at our lives and our path and to re-cap what we are learning on our own great adventure.
For our newer listeners, here's a summary…
7 years ago we were each moving through life, our paths were clearly defined to the finish line
About 6 1/2 years ago, on different days, we both woke up one morning with everything fine and went to bed that evening widowed and confused
We met 5 years ago, eventually got married, and began a new journey
1 year ago we left a secure place of ministry to obediently follow the Wind of the Holy Spirit as our great adventure was leading us to new places, new risks, and into the zone of the unknown
For several months we've been answering a call to take our years of practical life and leadership experience and invest the next 10+ years raising up, equipping, and lifting leaders on the continent of Africa. 
And now, before we just go off to Africa to make a transformational difference, we have to build a team of partners… in other words, we must raise the financial support necessary to accomplish this ministry. We have to fund every dime of this endeavor through partners. There is no magical pot somewhere to pull from enabling us to simply invest who we are into the leaders on the continent. Not only must we go, we also have to build a team of partners to make it possible to go.
Okay, now that we've brought our newer listeners up to speed (which by the way, we have had a surge of downloads the last couple of weeks) … we want to just talk about some things we are learning on our great adventure with the hope it will encourage you on your journey.
Learning Curves are Hard
When you start something new you have to learn new things and lay a new foundation.
We are starting with years of experience, but this is a new thing and we have much to learn. The things we will do in Africa are things we know, things we are trained to do, they are things that come from our skill sets. That being said, we will be doing it with different people in a different culture. We will encounter obstacles we have not yet identified.
Do not think that just because you have lived a long time and seen a lot of things, that you have nothing to learn. Such an attitude will set you up for disaster and failure.
The progression of learning and awareness is such:
First, You don't know what you don't know
At this stage you've not even discovered what you don't know. When you wade into a great adventure, you WILL experience this. A mature leader leaves room for this reality.
Second, You know what you don't know
At this stage of learning, you become aware of your knowledge and skill gaps, then you can search for answers and new learning. 
Third, You don't know what you know
At this stage (and this, like most things, is not linear), you are discovering how to apply your life experience and the things you do know, and discovering how to adapt what you know into your new situation. 
Fourth, You know what you know
At this stage you connect what you know to what you know about your situation.
Look, when you engage a new and great adventure, when you move into uncharted waters, you ARE going to have a learning curve.
You WILL enter a season of new learning, you are going to have to grow. Count on it.
You WILL be humbled with the awareness of how much you have to learn and adapt.
You WILL learn to depend upon others to fill in the gaps or you will arrogantly go down in flames.
We bring INCREDIBLE life, leadership, and spiritual experience to the task, but if we do not take time to reapply it… we are toast!
Calibration Point
Look at your great adventure and your path. You may have tons of experience, but in this new season, you must consider the needed new learning?
How will you learn what you need to know to carry out your great adventure?
---

To comment on this post, join our facebook page at this link and comment there. https://www.facebook.com/Calibrate360