Podcast: Play in new window | Download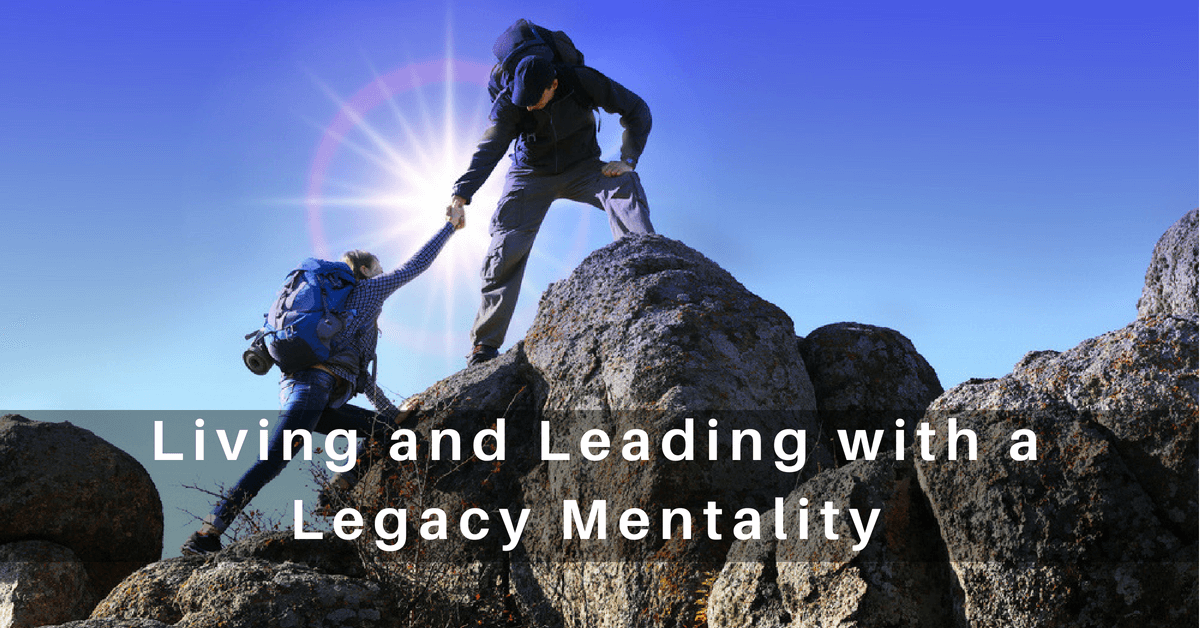 We want to live a legacy life and lead from a legacy mentality. This means living and leading in such a way as to lay foundations for buildings others will build, cutting paths fo others walk, and making investments for the next generation to spend. In this episode, David and Donna talk about the motivation of legacy leadership and the desire to "mature" rather than just get old and the "right now" life necessary to aim toward getting "better" instead of "bitter."

Continue Reading for the Episode Notes…
Living and Leading a Legacy Life
What's the difference between leaving a legacy and just finishing?
What makes the difference between a bitter old guy and a mature leader who engages transformation until the day they die?
When do we stop building the legacy we leave behind, or do we continue to cut a path for those who follow until the day we die?
We've just celebrated some wins that took 2 decades to earn, and it makes me wonder, 10, 15, 20 years from now, will there be more to celebrate, or is this it. Savor the moment, enjoy the feelings of accomplishment and completion because 1) there will be no more … or 2) today we start building in earnest, something new to celebrate later.
Passing Batons, Celebrations, and Legacy
When I was a young man I promised myself I would continue to listen and grow when I was older, that I wouldn't anchor in a comfort zone and refuse to leave it even though God bid me forward. It's not risk that's important, as much as it is the willingness to go where God wants us to go, say what he wants us to say, and most of all, be who he wants us to be, throughout our lives, whatever the call. Our lives are no mystery, the progressions and preparations are evident.
From the time I was a really young man until now I've studied mature leaders. 
I've noticed some of them have a peace and a confidence and a sustained transformational ministry that continues until the day they die.

 

Others seem worthless and complain that after age 50 no one gave them the opportunities they deserved.

 

I've watched some mature leaders move with a "Caleb" spirit as they survey the land for the next mountain worthy of their attention.

 

I've watched other older leaders grow more and more ineffectual through the years trying to make it to the end while their ministry and everything around them withers. That's the difference between  "older" and "mature."
For decades I've searched out the reasons for the differences between those who get older and bitter, and those who grow mature and vibrant. 
It starts early and continues through a lifetime of laying of a foundation of faithfulness.

 

It builds through a tenderness maintained toward the Presence of God.

 

It continues through listening to the heartbeat of the Father.

 

It is sustained through standing before God with open hands and a heart of trust.

 

It is confirmed in the storms of life when you throw all in, and rather than blaming God or everyone else, you anchor in the peace that surpasses understanding.
Mature joy and emotional health come through the faithful execution of the heartbeat of God. If our goal is receiving accolades, getting what we deserve, or being celebrated, we will receive bitterness and disappointment.
I met an older missionary couple in Africa who has faithfully executed on the continent for 40 years. They were completing their last term and were preparing to permanently move back to the U.S. I could feel the mix of emotion in them. It seems to be a logical and desirable progression, but when you spend much of your growing up years and almost all of your adult life in a place, leaving it when you are older comes with a lot of emotion. I thought about this missionary couple and the celebration of the awesomeness of 40 years of service. I doubt many will be at the airport on the Africa side to bid them farewell, and only a few will greet them on this side when they arrive. There probably won't be a cake, not many cards, few hugs and no floods of people saying "thank you." There will not be an opportunity for all of their supporting churches and partners to come together and throw a party or hear their reflections. No farewell tour. A simple and final newsletter will be the vehicle for their sentiments.
This is the way it is for most who serve.
Donna and I have been celebrated the last couple of weeks as we've closed part two of our lives and we move to part three. It's been wonderful. I've had a ministry that was very visible. Now, the baton has passed to the next runner, the celebrations of this season are over, and the legacy is what it is. Now, for the Indiana district its on to celebrating new leadership and new possibilities, for Donna and I, it is on to what's ahead, leaving the past behind.
Somewhere in the future, a decade or so hence, Donna and I will celebrate again. There may be no cakes or cards, no Envoy articles, no platform time, but we will celebrate in our own hearts what God has done over these years that are yet to be lived. We will again celebrate obedience, transformed lives, leveled mountains, churches planted, books written, disrupted nations, and prophetic visions realized. After that, we may even move into part four!
Legacy leadership is about 
the foundations we lay for someone else's building,

 

it's about the paths we cut for others to walk, and

 

it's about making investments for the next generation to spend.

 
I will not be an "old guy" for another 20 years or so, maybe never, but I hope to be mature and to keep growing into the image of Christ. We find our Christ-likeness through following Christ's example by humbling ourselves and making it about others and about what God knows is the best path for the revelation of His glory. There's a lot of awesomeness behind, but there is far more ahead. The celebration is over, the baton is passed, the legacy is what it is, now… forward!