Podcast: Play in new window | Download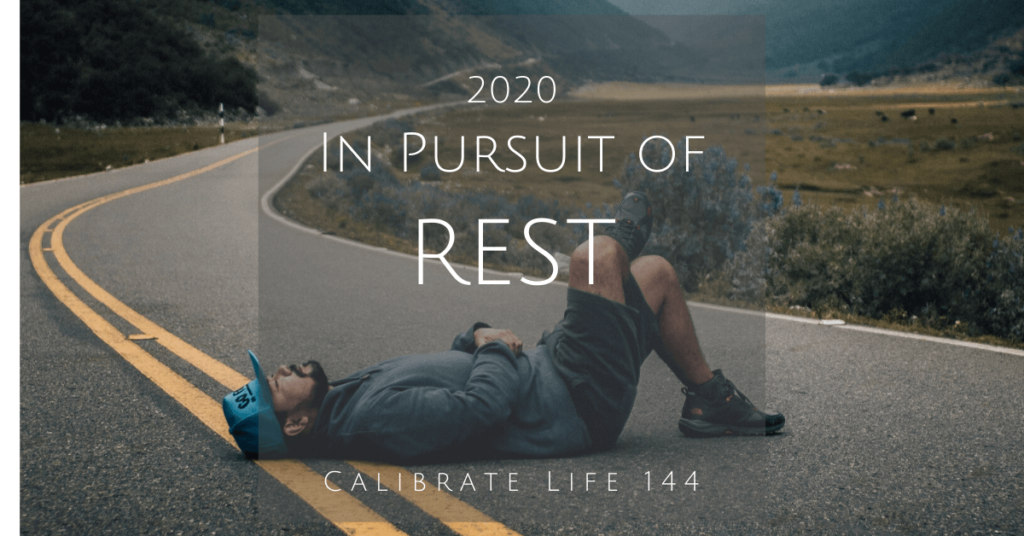 We've declared our 2020 to be the year of learning to REST again. The "gold" of our lives comes from the ability to rest in the Presence of God, learning to zone down, learning to listen. In this episode we talk about our renewed commitment to really learn to rest, to have abiding peace in the midst of chaos.
Listen or subscribe to the Calibrate Life Podcast in Apple Podcasts, in Google Podcasts, in Stitcher, or in any podcast player.


At the beginning of every year I take the time to think about the passing year and reflect on what I need and hope the new year to be. Last year, in 2019, my word was "FOCUS." We had a very large missions budget to raise and we knew we needed to stay focused on the priority of getting that looming task complete so we could move into the next phase of our mission and ministry. For 2020 the word is "REST."
"FOCUS" was my theme word for 2019. In the FOCUS of 2019 we let the pace of life get unnecessarily harried. Part way through the year a weariness started setting in and we realized that a main contributor of the weariness was the failure to sabbath properly — to not take a day off. We talk a lot about sabbath, always have. Taking one day a week off has always been foundational. Okay, so, I got a little too focused.
Donna had surgery in October, and the normal recovery for someone having such a surgery is about 6 weeks. Not of total bed rest, but of giving your body the opportunity to heal and recover from the trauma of surgery. She slowed down for about a week to 10 days and we were back at it, pretty much full force.
The calibrator had to re-calibrate.
I don't think it God's plan for us to live anxious stress filled lives. There's a healthy pace, and we have to find it for ourselves.
We stopped the podcast in November. We were getting later and later with the release, and we were missing some weeks. It was becoming a grind to keep up with it because our pace was out of balance.
So, with 2020 being the year when we (David) learn to REST, in spite of a relocation to Africa and lots of new adventures beckoning. We will not be, we cannot be effective unless we have a good pace that works for us to allow us to function at our optimum levels. We have talked about rest and sabbath ad nauseam, but today we are taking another run at the topic as we consider the changes of pace to which we must commit in 2020.
Here's an acrostic I came up with to help me plot the pace moving forward.
R REFRESH (Emotional) renewal, rebooting, recalibrating
E ENERGIZE. EXERCISE (Physical) energy management, ENERGIZES
S SABBATH (as a verb) (Spiritual) spiritual renewal, refreshing, resting, time measured
T THINK (Intellectual) strategic, deep work, not harried, pace, measured, gathering my thoughts, taking time to think, meditation, mental calibration Rest is STAGING – making preparations to do deep work.
Here are a few things I'm keeping in focus as I begin this journey to gain deeper insights into pace and rest.
"REST" IS MORE ABOUT ATTITUDE, PACE, AND MANAGEMENT THAN IT IS ABOUT INACTIVITY
FIRST, LEARN TO REST IN THE UNEXPECTED
If your well being is predicated on predictability, you are going to be anxious a lot. What you think is going to happen is usually not what is actually going to happen. Life has to be lived flexibly. You never know what is going to happen and how you might need to respond.
"We plan the way we want to live, but only GOD makes us able to live it." Proverbs 16:9 MSG
Listening to the heartbeat of God and getting as close as we can to his revelation will direct our hearts, but there is so much we cannot know or prepare for. God establishes our steps based upon his will, wisdom, and knowledge.
If I am to live in REST, then I must be at peace with the unexpected.
SECOND, ANXIETY CRUSHES REST AND REST CRUSHES ANXIETY
Honestly, the two of us experience a good bit of anxiety. To fully REST in God's plan is to overcome anxiety, something we've been feeling a lot of lately because of what is ahead, both our great adventure in Africa and raising the rest of our our budget.

How do I live my life in such a way as to not be bowled over with anxiety? This is the essence of the commitment to REST.
It is not only about taking days off, which is part of it, but it is living in an anxiety zone that is manageable, is healthy, and one in which I do not feel my hair turning white.
What causes MY anxiety? The anxiety trap I've fallen into, for the 50,000th time, is acting like I am Superman. Thinking we can do far more than we can actually do, and then attempting it.
First Pecter, Chapter 5 admonishes us to cast our anxiety on God.
"Humble yourselves, therefore, under the mighty hand of God so that at the proper time he may exalt you, casting all your anxieties on him, because he cares for you." 1 Peter 5:6-7 ESV
Casting our ANXIETIES on Him is an act of humility, and humility requires trust. Tossing our cares, our anxieties on God, in humility is invited because God cares for us.
We will battle anxiety and suffering that causes anxiety. We will face things that disrupt us to the core, but Where then is the REST?
REST is in the attitude.
REST is the embracing of humility.
REST is managing anxiety, but more so, rest is the ability to overcome the effects of stress and to find peace in the midst of stressful situations.
REST, being my word for 2020, is not something I have figured out. This is going to be a journey. I want and feel I need a quick answer, but quick answers usually do not come.
Is it compartmentalization?
Is it attitude?
Is it simplicity?
Is it positioning?
Is it the way I live?
No doubt… more to come on this topic.
---

To comment on this post, join our facebook page at this link and comment there. https://www.facebook.com/Calibrate360